The men's and women's cross country teams vie for regional success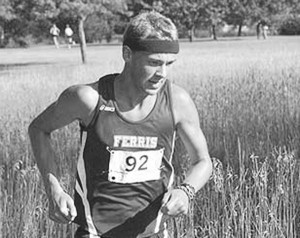 The men's and women's cross country teams look for success at the NCAA Division II Midwest Regional meet.
Last season, the women's team placed third at the Midwest Regional meet to advance to the NCAA Division II National Championships. The team will look to get back to the National Championships with a strong finish at regionals again this season.
Ferris finished second overall at the Great Lakes Intercollegiate Athletic Conference (GLIAC) Championships. Junior Tina Muir won the GLIAC women's individual title by 13 seconds over the next runner. She hopes the team will continue to run well.
"The team definitely is aiming to qualify for nationals," said Muir.
The top three schools from each region qualify for the National Championships in Evansville, Ind., according to junior Paige Onweller. Onweller said the team is not doing anything out of the ordinary to prepare for the meet.
"Our entire season's training has been geared for this meet and we are all just excited to see our potentials and hard work hopefully pay off," said Onweller.
The team is ranked 18th in the nation, the same ranking it had in the preseason poll. The Bulldogs have finished in the top three at each of the previous three events.
The men's cross country team finished fifth at the GLIAC Championships and is ranked eighth in the Midwest Region. Sophomore Tyler Crossman is expecting everyone to hold nothing back in the regional meet.
"My expectation for the event is for everyone to run their heart out and just do the best that they can do," said Crossman.
Ferris has finished fifth or better at each of its previous three events. Crossman paced the team in those events with three top-16 finishes.
The Midwest Regional meet will be in Kenosha, Wis. on Saturday. Ferris competed at an event on the same course on Oct. 10 at a meet hosted by the University of Wisconsin-Parkside. Crossman said familiarity with the course should help the team succeed.
"I think that knowing the course and knowing that we all ran pretty well there will help to give us a little confidence in going out there and doing what we have to to do," said Crossman.
The regional meet will differ from most of their earlier events in that it is 10K, instead of 8K. Freshman Alex Bladecki said the team has been training for the regional meet all season.
"We have been training to run the 10K all season, not just an 8K," said Bladecki. "If our training is good, then we should all run good at Regionals."