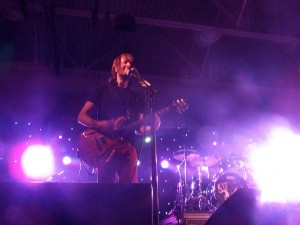 As Third Eye Blind's lead singer Stephan Jenkins closed the show at the Wink arena last Thursday, he said, "This is our first time at Ferris State, and now we know…"
The band, which goes by 3EB for short, made a stop in Big Rapids on their national tour. They played to a 1000-plus crowd in the Wink arena at 7 p.m., Thursday night. The opener was the up and coming band Hot Chelle Rae, which has accompanied 3EB at various stops on this tour.
3EB recently came out with a new album, following a six year hiatus, entitled, "Ursa Major." Hot Chelle Rae was also promoting a new album, "Love Sick Electric," which came out on the Monday before the show.
3EB's set included songs from their new album, as well as crowd favorites such as "Jumper" and "Semi-charmed Life." The crowd cheered for an encore as the band left the stage.
Lori Armstrong, the secretary for the music industry management program at Ferris, said that students had voted last Spring on what genre they wanted to see for Autumn Alive, and the Rock/Pop category won. Other bands that were considered, but were unavailable to come, were Jack's Mannequin and Matt Nathanson.
Armstrong also said that they try to change the style of music for each show during the year to appeal to the whole student body.
It cost $41,000 to bring 3EB, and $500 for Hot Chelle Rae. Kelsey Fales, an FSU student and MIMA member who played a major role in coordinating this event, said that there are categories of price range, and when a price is decided upon, they start with the first band in that range and move down the list. 3EB was confirmed in late September of this year.
Armstrong also said that there were around 1,000 tickets sold prior to the event, and they were expecting about another thousand to be sold at the door. Sponsors of the event included The Gate, Y102 and the Student Leadership and Activites Advisory Council (SLAAC).
"I really enjoyed the band Hot Chelle Rae. I liked that they signed autographs after the show," said FSU junior Sarah Nagel after the show. "Third Eye Blind was pretty good…I'm glad I went."