The Bulldogs were swept at Alaska in first conference series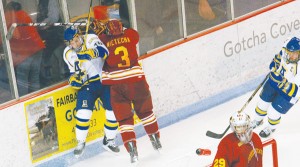 The Bulldog hockey team was unable to keep their winning streak alive as they were swept over the weekend in Alaska.
Ferris fell to the nationally ranked University of Alaska Fairbanks Nanooks in two games this weekend, ending the team's four-game winning.
Ferris opened the weekend with a 3-1 loss on Friday. The Bulldogs got on the board early in the first period as senior Blair Riley knocked the puck in off a rebound in front of the net.
Alaska responded late in the first period on a power-play goal by Nik Yaremchuk with just 1.1 seconds left in the period.
Freshman Eric Alexander had a five-minute major penalty that ultimately cost the team. Alaska took advantage of the penalty as Aaron Gens scored on sophomore goaltender Taylor Nelson to take a 2-1 lead. Alaska added an empty net goal in the third period to seal the victory.
Alaska was 4-10 on power play opportunities in the two games. Reducing penalty minutes is something head coach Bob Daniels knows the team will have to address.
"Our penalty kill has been pretty good so far this season," said Daniels. "But we really struggled at times during this weekend and we plan on giving it a lot of attention this week in practice."
Nelson saved 27 of 29 shots for the Bulldogs. Ferris was outshot in the game, 30-26, for the first time all season.
Alaska completed the sweep on Saturday with a 3-2 overtime victory. The Nanooks scored first late in the first period when Andy Taranto netted a power-play goal with 2:28 remaining in the period.
The Bulldogs responded with a power-play goal of their own, as senior Aaron Lewicki scored his fourth goal of the season with 39 seconds left in the first period. Each team scored in the second period for a 2-2 tie after two periods. A scoreless third period led to overtime.
During the overtime period, both teams battled to a stalemate for a majority of the period. With 15.6 seconds left in overtime, Alaska capitalized on a turnover in the Ferris zone and scored the game-winner.
"I feel that we could have won either game this weekend," said Daniels. "As long as we can keep playing like we did this weekend, we will win our fair share of games."
Junior goaltender Pat Nagle saved 31 shots for the Bulldogs in the loss. The Bulldogs were 2-10 on their power play opportunities in the two games.
Ferris stands at 5-3-0 overall on the season and are now 0-2-0 in the Central Collegiate Hockey Association (CCHA). The Bulldogs host the Bowling Green State University Falcons this weekend in a conference match-up. The Falcons are 0-5-1 overall this season.