Ferris hangs tough with nationally ranked Division I Dayton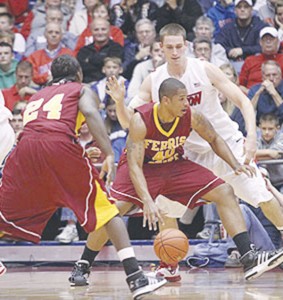 The Bulldog basketball team came up short against the nationally ranked University of Dayton last week.
Ferris held strong against Dayton, which is currently ranked 22nd in the ESPN/USA Today Coaches' Poll, but ultimately fell 88-73 in an exhibition match on Nov. 3.
Despite the loss, head coach Bill Sall was happy with the performance from his team.
"I thought we improved a lot from the first exhibition game," said Sall. "We have the makings of a good team, but we have some things to work on."
The Bulldogs jumped out to an early 9-6 lead in the first half, but Dayton responded with an unanswered 14 point scoring drive. The Flyers continued their strong play in the first period and took a 48-35 advantage into halftime.
Dayton began the second half with another scoring run to give the Flyers an 18-point lead, which was the biggest lead of the night.
Following the run, the Bulldogs outscored the Flyers 16-5 to close the gap to 10 points with 12 minutes left in the game. Ferris would not get any closer, however, as Dayton held on down the stretch for the victory.
Among the leaders for the Bulldogs was junior forward/center Justin Keenan who led the way with a game-high 25 points. Senior guard Austin Randel dropped in 22 points and junior guard Darien Gay contributed 10 points. Keenan is a preseason NCAA Division II All-American.
"Keenan played very well for us and I think he was the best player on the court," said Sall. "It really says something considering the level of competition we were going against."
After the matchup with Dayton, the Bulldogs head into their final exhibition game at Calvin College looking to be fully prepared for the regular season.
The team will have to overcome the injury bug early in the season, as sophomore guard Dontae Molden suffered an injury just five minutes into the Dayton game. Sall said he is a little concerned with the injury since the depth at point guard has been affected.
Despite the early-season injury concerns, Keenan feels confident going into the final exhibition game.
"We are really confident at this point," said Keenan. "Most of us have been here for awhile and we feel like we've really started running on all cylinders."
The contest against Calvin, which is coach Sall's alma mater, will take place on Nov. 15 at Van Noord Arena in Grand Rapids.