No. 1 ranked Red Hawks up next in Bulldog hockey schedule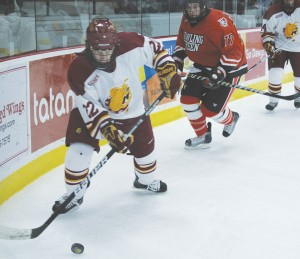 The Ferris hockey team is off to its best home start in school history with a perfect 6-0-0 record at Ewigleben Ice Arena this season.
The Bulldogs swept the Bowling Green State Falcons for their third consecutive home sweep to start the season. The Bulldogs dominated the first match as they skated to a 5-1 victory.
The Falcon's struck first as they put the puck past sophomore goaltender Taylor Nelson, only 59 seconds into the second period. The deficit did not phase the Bulldogs as they went on to score five unanswered goals, four of which came on the power play.
Senior Blair Riley scored twice to lead the team. Freshmen Travis Ouellette and Matthew Kirzinger, along with junior Justin Menke, each added a goal for the Bulldogs.
The second contest was much closer, but the result was the same as Ferris closed out the series with a 3-2 victory.
Bowling Green jumped out to an early lead as they scored at 5:20 in the first period on a power play. The Bulldogs responded quickly as Ouellette scored his fourth and fifth goals of the season to give Ferris a 2-1 lead after 20 minutes of play.
Late in the second period, sophomore Brett Wysopal scored the eventual game-winner on a shorthanded goal to give Ferris a 3-1 lead.
The team had to fight through a slew of penalties, as they racked up 33 minutes of power play time.

"We were very aggressive and that lead to some bad reads, which resulted in some penalties," said Bulldog head coach Bob Daniels.
Junior goaltender Pat Nagle earned his third win on the season as he stopped 29 of 31 shots on goal.
With the pair of wins, Ferris improved to 7-3 overall and 2-2 in the conference on the season.
"I am real happy with our penalty kill and with the end results," said Daniels.
Next on the Bulldogs' agenda is a trip to Miami, Ohio to face the No. 1 ranked Red Hawks. Miami is coming off a very impressive performance as they swept the fourth ranked University of Michigan in convincing fashion. Miami is 8-1-1 overall and 5-1-0 in the conference.
Last season, Ferris performed well against Miami as their two games resulted in a 2-2 tie and a 2-1 victory.
"We definitely don't need any help getting hyped up for this game," said Daniels. "This is a great measuring stick
for us."