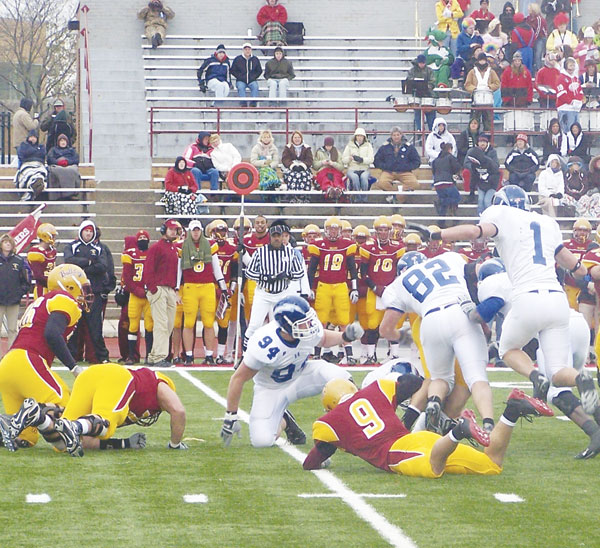 The Bulldog football team finished the 2009 season with just one victory

 The Ferris football team finished the forgettable 2009 season 1-10 overall, which is the worst record for the team in 25 years.
The heartbreaking 17-10 home loss to Grand Valley State seemed to deflate the team's sails for the rest of the season as Ferris was outscored 284-48 over the final seven games. After leading 27-7 at the first half of the season-opener against Tiffin, the Bulldogs never again held a lead at halftime.
After the first two games of the season, the Bulldogs' offensive unit was atrocious the rest of the season. The offense scored 57 points in the first two contests and then just 65 in the final nine games of the season. Ferris scored an alarming 7.2 points per game during that stretch.
Many people have forgotten about the Bulldogs' lone win because of the 10-game losing streak to end the season. The victory came against lowly Tiffin, who finished 0-11 this season. Ferris lost its final seven contests by 26 points or more. Only twice in their 11 games did the Bulldogs score at least 20 points.
 As bad as the team finished the season, there were a few unforeseen reasons behind the losing streak. Ferris had numerous injuries to key players including strong safety Chad Wilson and free safety C.J. Lee. The team also had to replace seven defensive starters from the 2008 season.
 With such a disappointing season, Ferris needs to hope that there is a rebound next season, or at least in the near future. Head coach Jeff Pierce has consistently put a winning team on the field, but this season better not become a trend.
It doesn't help that Ferris plays in the Great Lakes Intercollegiate Athletic Conference, a consistently tough league. Grand Valley State, Saginaw Valley State and Hillsdale are all ranked in the top 25 and made the playoffs. Ferris will need to adapt in order to survive in a conference that had eight of 12 teams above .500 this season.
 The team will lose many more defensive starters next season, as well as senior quarterback Kyle Parrish. Young players will be forced to step up, or the team, and its fans, will suffer through another down season.