The women's cross country team advanced to the NCAA-II Championships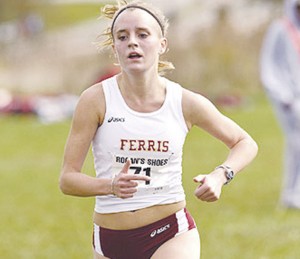 The women's cross country team qualified for the NCAA-II Championships with a third place finish at the Midwest Regional.
For the first time in school history, the women's cross country team will compete in the National Championships in back-to-back seasons. The Bulldogs finished with 103 points, behind only Grand Valley State (26) and Southern Indiana (76). Last season, the team also finished third at the regional meet.
Junior Tina Muir set the pace for the Bulldogs and the entire field as she won the event by 10 seconds with a time of 21 minutes, 34 seconds. Muir was a Division II All-American and finished fifth at the same event last season. She has claimed five individual titles this season.
"When the team was told that we were going to Nationals for the second year in a row, the atmosphere was electric," said Muir. "Everyone was screaming and jumping up and down."
There were 19 teams represented and over 130 runners in the event. Freshman Anna Rudd and Junior Paige Onweller each finished in the top 20 for the Bulldogs. Onweller said she kept telling herself to catch the next person in front of her.
"You always feel better when you run smarter, go out a little slower and pass people throughout the entire race," said Onweller.
A season ago, the team placed 17th at the National Championships. Though the team has been ranked in the top 20 all season long, Onweller said the team's goal is to improve on their finish from last season.
"We qualified now, which is a huge accomplishment, but we still have work to do and we want to improve on our team finish from last year," said Onweller.
The National Championships, hosted by Southern Indiana University, will be held in Evansville, Ind. on Nov. 21. The top three teams from the eight regions nationwide will compete at the event. Muir said she believes the Bulldogs could finish in the top 15 or higher if they perform their best on that day.