The guitar can be an expressive outlet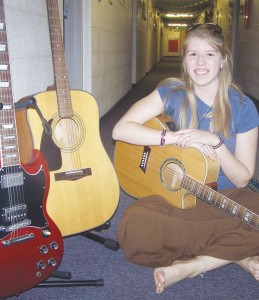 Students see the guitar as an expressive outlet that symbolizes emotions and fun.
Some students at Ferris State University embrace playing guitar as a passion and a relaxation method that helps them escape the stresses of everyday life.
For many, playing a musical instrument is a release, an expression, and a true art form. Many people attempt to play different instruments, but one of the most popular instruments to pick up is the guitar.
Guys sometimes view it as a way to impress others or become more expressive, and girls sometimes look at it as a way to channel their emotions. Some people simply think it's a fascinating instrument.
Gabe Laney, senior in the nursing program, said, "I got started when I was about 12 because I have an uncle who plays and I was always really interested in touching his guitars."
Laney went on to share his top five favorite songs to play. They are "Recently," by Dave Matthews, "Bron yr Aur," by Led Zepplin, "Trapeze Swinger," by Iron and Wine, "Zebra," by the John Butler Trio, and "A Hard Rain's A-Gonna Fall," by Bob Dylan.
Another student at Ferris who enjoys the guitar is freshman in the pre-pharmacy program Selena Brown.
Brown began playing guitar when she was just eight years old. Her father was a traveling musician and she toured 46 of the 50 states with him. She said he was her inspiration and hero.
"I taught myself a little and he taught me the rest and I've been playing ever since," said Brown. "I am blessed to have picked up this talent and I am thankful more and more everyday for the gift of music in this world."
Brown received her first guitar, an electric-acoustic Michael Kelly, from her father eight years ago. Her five favorite songs to play on it are, "The Best Day" and "Fifteen," both by Taylor Swift, "Piano Man," by Billy Joel, "Your Grace is Enough," by Chris Tomlin, and "Cinderella," by Steven Curtis Chapman.
"Personally, my guitar is a way to relax and unwind as well as express myself. There is nothing better than being able to come home and make music on your own volition," said Brown.
Drake Pattee, sophomore in the nursing program, also plays the guitar. He began playing when he moved from Virginia to Michigan in the sixth grade. He said his father inspired him to play and that there were always guitars around to practice on.
"I mostly write my own material, which is heavier metal, but I know a few random songs here and there like "Wipeout," "La Bamba," "Thunderhorse," and some Jack Johnson songs," said Pattee.
He was recently in a band and played live shows performing the music he wrote with his band mates. He said it was the "biggest rush."
Pattee also said, "Guitar has given me the ability to express myself through music."
All of these students agree that it does take some natural talent, but that ultimately anyone can play the guitar.
Laney said, "If you have never picked up a guitar in your life, but can make sounds come out of it that are pleasing to you, then I would say you are a guitar player."
"I believe anybody can play, although I think there are people who are naturals at playing guitar, but if you put the time and practice in then anybody can shred with the best," Pattee said.
In regards to playing guitar, Brown said, "You have to have a respectable amount of knowledge about rhythm in order to strum sufficiently, but for the most part, it is a fairly easy instrument to pick up."
The guitar is an instrument that can take on many forms. It can be used around a campfire, in a concert, or just as a casual way to get friends to sing a song together.