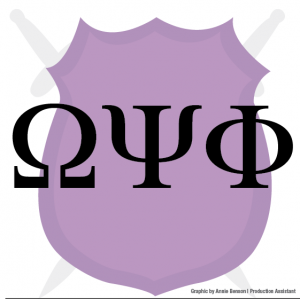 Several Ferris State University students are impersonating the Omega Psi Phi Fraternity that has been suspended from campus for 10 years.
The alleged students in question include Marvel Pridgeon, Timothy Hogue, Marc Powell, Joshua Jones and Dion Davenport, former Omega members, who have been seen wearing Omega Psi Phi paraphernalia. This apparel includes gold boots, army pants along with purple or gold shirts wielding the Greek letters of Omega.
Davenport was released from the fraternity for his involvement with the non-Omega members. The Omega Psi Phi Fraternity invoked a self-imposed suspension in 1999 after the last Omegas graduated from Ferris.
"We suspended our chapter to reduce imposters since there were no acting Omega members on campus for awhile," said Alvin Walker, official Omega Psi Phi member and 1987 FSU graduate
Walker heard rumors during summer 2009 that these students were perpetuating a fake fraternity under the Omega name. Walker, along with other Omega members, contacted the false pledges and informed them that proceeding with their activities would result in rather severe reprimanding.
"We asked the young men if they had been involved with the fake Omega fraternity, and they denied it," said Walker. "However, at the Ferris Ice Breaker Dance in September, the same students performed wearing Omega apparel and performing a traditional Omega 'step dance'."
Omega Psi Phi began a formal investigation to stop these perpetrators. Climent Edmond, 10th District Representative for Omega Psi Phi Fraternity and the Michigan State Representative for Omega Psi Phi Fraternity, Fionn Williams, official Omega member and Walker met again with the students to discuss the issue. The men also tried to gather information from the students about which official Omega member had encouraged them to create an unapproved pledge process.
"The young men are very tight-lipped about an official member's involvement; however, we do not know who would encourage their behavior," said Walker.
Walker suspects that Davenport's expulsion from Omega for his involvement with fake Omegas is a likely explanation for the students' portrayal of the fraternity.
Walker also sought to pledge the followers full membership; however, none of the students met the fraternity academic requirements, and some were not official Ferris students at the time.
The students have continued to impersonate the Omega fraternity and are rumored to be recruiting more members. The students have also begun weekly gatherings called the "Thirsty Thursday" and distribute campus fliers about the events, according to Walker.
"These guys are carrying on a gang-like mentality through Omega," said Walker. "We just want them to stop dragging our name in the mud."
The Michigan chapter is currently seeking legal counsel to prepare a lawsuit against the students for false organization and slander.
Omega Psi Phi was founded in 1911 at historically black Howard University by Professor Ernest E. Just and students Edgar A. Love, Oscar J. Cooper and Frank Coleman. The fraternity was established on brotherhood and friendship among black professionals.
The fraternity's name is based on the initials of the Greek phrase meaning "friendship is essential to the soul" and remains the organization's motto today. Omega is synonymous with famous African-American professionals.
"We take Omega very seriously and will do whatever we can to preserve our good name," said Walker. "We just don't want others to be led astray."
Attempts to contact alleged members of the fraternity were not returned as of press time.