The Bulldogs are 0-2 to start the 2009-2010 season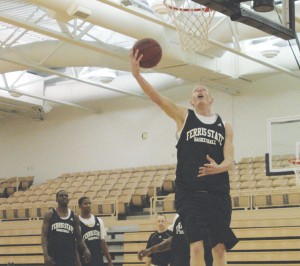 The Bulldog men's basketball team dropped its first two games of the season this week.
Ferris started off the week with a 65-60 loss to the Lewis Flyers in a season-opening road contest on Sunday night.
The Bulldogs and Flyers traded baskets in a back-and-forth first half, which included eight lead changes. Neither team could hold an advantage for very long, despite a 15-point first half by senior guard Austin Randel. The Flyers managed to grab a 32-30 lead at halftime.
In the second half, Ferris held tight with the Flyers and battled to a three-point lead with 5:42 left in the contest. The Flyers responded with an 8-0 run to take a 55-50 lead with just 3:43 left on the clock.
The Bulldogs held strong though and team fought back to pull ahead by two points with two minutes left in play.
After Lewis tied up the game with two free throws, Ferris possessed the ball in the final minute. The team could not capitalize as a missed shot led to a fast-break basket for Lewis.
That was all the Flyers needed as they hit five free throws to clinch the victory.
Randel led the team with 19 points and pre-season Division II All-American Justin Keenan put up 15 points.
Following the tough loss to Lewis, Ferris traveled to Mount Pleasant to take on Central Michigan on Monday.
Ferris was able to jump on Central early in the game, as the team built up a nine-point lead just 5:40 into the game. The Chippewas quickly made the lead disappear as they went on a 10-0 run.
The Bulldogs clawed back to retake the lead with 6:14 left in the first half, but Central retaliated with an 8-0 run for a 36-29 advantage at the half.
Coming out of the half, the Chippewas jumped on the Bulldogs early as they built up a 12 point lead just 1:23 into the second half.
Ferris came back with an 11-4 run to close the gap to five points, but the Chippewas proved to be too much as they took control down the stretch and coasted to a 82-69 victory.
For the Bulldogs, junior guard Darien Gay led scored a game-high 26 points, including hitting eight-of-nine three-pointers on the night. Kennan chipped in 15 points while senior guard Jon Yeazel, who played for Central for two seasons before transferring to Ferris last year, added a double-double with 13 points and 15 rebounds.
Ferris will conclude the season-opening road trip on Saturday as the team travels to Indiana to play the St. Joseph's Pumas, who are 2-0 on the season.