The club hockey team is looking for more fan support at home games the rest of the season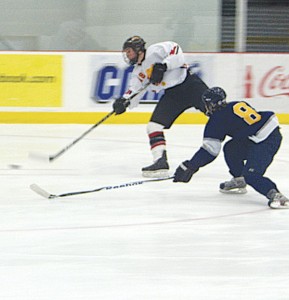 The Ferris State club hockey team has shown that the varsity team is not the only one with skills.
The team started the year going undefeated in their first eight games and is currently 9-5-1 overall. This past weekend, they were able to snap their five-game losing streak as they defeated the University of Toledo in both games.
The hockey team is a division II member of the American Collegiate Hockey Association (ACHA). Ferris competes in the Great Midwest Hockey League (GMHL) against teams such as Michigan, Michigan State and Ohio State.
The team is coached by Tom Apsey and currently has 27 players on its roster. Senior goaltender Kevin Delamarter has played for the team all four years that he has attended Ferris and he feels that their games are very competitive and exciting to watch.
"It would be nice to get more students to attend our games," said Delamarter. "We're not just a group of guys getting together to play hockey."
Each year, the team holds tryouts during the second week of school. For new students, it gives them a great opportunity to get out and start meeting new people. Not only does it present opportunities to meet new people, but also gives players the chance to travel around the country as well.
In the past few years, the team has traveled to many states including Arizona, Florida, Kentucky, and Missouri. Club hockey president Jonathan Juliano feels that every game and road trip is exciting for both the players and the fans.
"It is a lot of fun to travel with the team and to be able to travel to other colleges and play a high level of competitive hockey," said Delamarter.
Similar to the Division I team, the season goes into March. The team has 32 regular season games and then league playoffs begin. If the team finishes in the top 10 in the ACHA Central Region rankings, then they will have the opportunity to go to the regional playoffs. Based on how the team performs there, they could end up going to the national tournament.
The next home game will be on Dec. 5 against the Central Michigan Chippewas. The puck will drop at 9:00 p.m. at Ewigleben Ice Arena and admission is free.