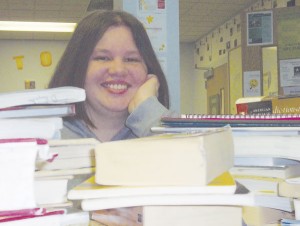 Nicole Raymond has 20,000 words written and 30,000 more to go.
Raymond, a senior in the Technical Professional Communication program, is about half-way finished writing her novel for National Novel Writing Month (NaNoWriMo).
"It isn't for class. I just love writing," said Raymond, who will be graduating in December.
Raymond said she has been struggling to find time to write her novel lately due to class assignments, work and maintaining her blog on horror movies, gruesomedetails.wordpress.com.
The month-long event, now in its tenth year, requires that participants submit a work of fiction totaling a minimum of 50,000 words (roughly 175 pages). There are no real prizes save for a certificate of completion upon successfully writing and submitting the needed quantity of words.
NaNoWriMo is a non-profit organization aiming to boost enthusiasm and creativity in the novel writing process.
"The 50,000-word challenge has a wonderful way of opening up your imagination and unleashing creative potential like nothing else," says NaNoWriMo Founder and Program Director (and ten-time NaNoWriMo winner) Chris Baty. "When you write for quantity instead of quality, you end up getting both."
Typically about 18 percent of writers participating actually reach the 50,000 word minimum.
With around 120,000 individuals participating last year, the odds are against Raymond successfully completing her novel which she describes as a love story about what makes a person a person.
"I'm about half done and the month is about half over, so I'm doing all right," said Raymond, who hopes to attend graduate school in Boston to study writing and publishing.
For more information on Nation Novel Writing Month, visit nanowrimo.org