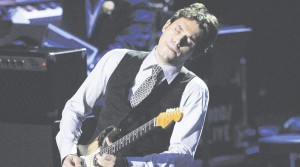 John Mayer's latest album, "Battle Studies", represents a darker and less musically trendy style than listeners may be used to.
Yesterday's debut of the album came after a series of teasers, snippets and samples were released through rhapsody.com, iTunes and a music video for the first single off the album, the controversial "Who Says"… controversial because one of the lines alludes to Mayer's preference to do what he wants with his life, including getting stoned. Though Mayer's people have said that the lyric is more open to interpretation and a censored version has been released for mainstream radio audiences of a more G-rated level, fans are squirming to defend and rebuke him for the single line, rather than just chill out and enjoy the music.
His fourth studio album released by Columbia records shows the artist as a fractured and complicated guy. Interviews leading up to the release have portrayed him as the opposite. Mayer is volatilely witty and has about as much despair as a golden retriever with a tennis ball, which makes me question the validity of his words.

But while the tone is strikingly less palatable for a mainstream audience, the lyrics and style are decidedly romance-based. Other songs on the album are named "Perfectly Lonely", "Friends Lovers or Nothing", and "Half of my Heart", which is barely a duet with country music star Taylor Swift. That's fine that she barely sings in this song. I'm more inclined to appreciate her talent from a more visual and less auditory perspective.
What's he so lonely about? Someone needs to remind him that he is John Mayer, rock star and sex symbol to 18-24 year old women and the occasional cougar. It's apparent that the slightly older-than-you-might-think Mayer, age 32, has found his niche with a generation of listeners who want men to talk about their feelings and don scarves in a more European fashion. Clever and sappy but appreciable lines like "anything other than yes is no. Anything other than stay is go. Anything less than I love you is lying," from the 11th track on the CD will be dotting facebook statuses and tweets of smitten twenty-somethings in the weeks to come.
Overall, the album is great. The change is welcome, but likely to be disliked by those who thought Jack Johnson's "Sleep Through Static" was an offensive shift from anything that didn't belong on the Curious George soundtrack.
This work by Mayer doesn't represent the guitar complexity that his performances on "Where the Light Is" with the John Mayer Trio does, but the total package from ability to listen and love it or casually ignore it as background noise and still think it's pretty good.