Tina Muir and the women's cross country team look to finish the season strong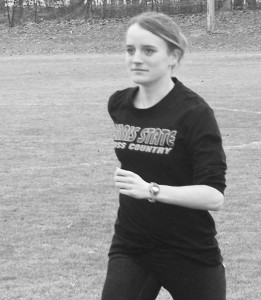 Women's cross country runner Tina Muir is already the regional champion, but has her sights set on the national title.
Muir, a junior from St. Albans, United Kingdom, has been living in the United States for four years. She left her family and moved to Michigan at the age of 19 to pursue an education and to run cross country and track.
"I really wanted to come to school over here exactly for this reason because of how supportive everyone is," said Muir.
Muir won the Midwest Regional event by 10 seconds over Mary Ballinger of Southern Indiana University. Ironically, Southern Indiana is hosting the NCAA-II National Championships on Saturday in Evansville, Ind. Muir said she is capable of a very high finish.
"Anywhere in the top 10 is a possibility, but I'd really like top five," said Muir. "That would be a good goal right now."
Muir has already piled up many achievements this season as she won the GLIAC and Regional Championships and was named the conference's "Runner of the Year". She, along with freshman Anna Rudd, was named to the United States Track and Field/Cross Country Coaches Association (USTFCCCA) Division II All-Midwest Region Team.
"All of the freshmen have worked really hard and we've got a really good group of girls," said Muir.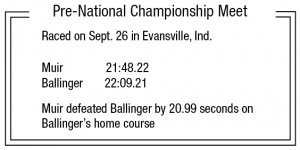 Muir said the team has worked really hard all year long and they could not have made it as far as they did without the effort of their coach, Steve Picucci. Muirs hard work has paid off this season. She said that she runs 50 to 75 miles a week and an average "easy run" for her is seven or eight miles.
Last season, Muir finished 12th at the National Championships, the highest ever for a Bulldog, and was named a Division II All-American. In addition, she was named an All-American in track and field with a fourth place finish in the 5,000 meters.
"I'm a lot stronger than I was a year ago and I considered last season a good season," said Muir.
The women's cross country team has qualified for the national championships for the second consecutive season and hope for a strong finish. The team finished 17th at the meet last season. Picucci said the team is hoping to improve on last year's performance.
Of the top seven runners for the Bulldogs, Megan Josey is the only senior. Muir said Josey has a year of eligibility left and may return next season. Juniors Paige Onweller, Sarah Creed, and Muir, as well as freshmen Alyssa Osika, Shelby Janutol, and Rudd, are eligible to return next season.