Women will be looking to shock and awe in NCAA tournament to close out season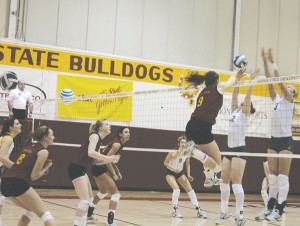 The Ferris State women's volleyball team will compete in the Division II NCAA Tournament for the first time since 2006.
Ferris was one of the 64 teams selected to take part in the tournament. Ferris is the seventh seed in the Midwest Region and will take on second-seeded Lewis University (27-4). Lewis (Ill.) is currently ranked 11th nationally. The Bulldogs finished the regular season with a 19-11 overall record.
The team will be looking to perform at a high level in order to pull the upset and avenge their 3-0 defeat to Lewis earlier this season in the GLVC Crossover tournament. Coach Tia Brandel-Wilhelm believes that this team's hard work and tenaciousness will benefit them.
"As always we are just going to have to take care of play on our side of the court," said Brandel-Wilhelm.
Freshman outside hitter Aly Brecht will be looking to make a strong contribution off the bench.
"We just need to go out there with a winning mindset," said Brecht.
This will be the team's 15th appearance in the NCAA tournament. The women will be looking to improve on their 7-15 record in the NCAA playoffs. The Bulldogs have not won a NCAA Tournament contest this decade.
"This team competes well every time they take the court," said Brandel-Wilhelm.
Ferris will be hoping to rebound after their disappointing first round loss to eventual champion Hillsdale in the GLIAC tournament. Ferris fought hard throughout but fell in four sets, 25-22, 15-25, 15-25, and 15-25. Senior Kristy Gilchrist and junior Arielle Goodson led the way for the Bulldogs as they recorded 13 and 12 kills respectively.
"I have been very pleased with the performance of the team thus far this season," said Brandel-Wilhelm.