The Bulldogs manhandled Grand Valley for their first victory of the season at Wink Arena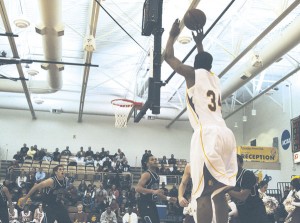 The Ferris State men's basketball team earned their first win of the young season in dominating fashion on Monday night.
The Bulldogs ended their three-game losing skid as they won their home opener 67-41 over Grand Valley State. Ferris improved its record to 1-3 overall and 1-0 in the Great Lakes Intercollegiate Athletic Conference (GLIAC). This was the first GLIAC contest of the season throughout the entire league.
Junior forward/center Justin Keenan paced a balanced offensive effort for the Bulldogs with 15 points and seven rebounds. Keenan was only 1-7 from the floor, but was 13-18 from the free throw line. Junior guard Darien Gay shot 5-8 from the field en route to 13 points and three assists. Ferris had eight players score five or more points in the contest.
Grand Valley held an early lead at 9-8, but a three-pointer by Gay gave the Bulldogs an 11-9 lead at the 12:27 mark of the first half. From that point on, Ferris did not look back as it held the lead for the remainder of the contest.
The Bulldog defense harassed the Lakers into 14 first half turnovers and 27.3% shooting from the floor. Ferris was able to capitalize off those turnovers as they turned them into 15 first half points. Head coach Bill Sall was very pleased with his team's defensive effort throughout the contest.
"We did a tremendous job of playing with energy and hustling to loose balls tonight," said Sall.
Senior guard/forward Austin Randel nailed a three-pointer with five seconds left in the first half to give Ferris a 33-16 lead at halftime.
The second half was more of the same as the Bulldogs came out with the same intensity and were able to stretch their lead to a 27-point advantage. Every time the Lakers were able to make a play, the Bulldogs answered at the other end of the floor. As a team, Ferris shot 51.2% from the field for the game.
"Tonight our defense was definitely our best offense," said Sall.
Ferris will next be hitting the hardwood at home tomorrow against the Ashland Eagles. The Eagles are overall 2-1 this season and have not yet played a conference game.
Offensively, the teams are evenly matched as Ferris scores 69.5 points per game and Ashland scores 71.3 points per game. Ferris has allowed four points per game less than Ashland so far this season.
Ferris finished fifth in the GLIAC last season with 12-10 record against conference opponents. Ashland went 8-14 against GLIAC teams and finished 10th in the conference. The Bulldogs won both contests with the Eagles during the 2008-2009 season and scored 196 points combined in the two victories.