Ferris is 8-0 at home this season and hosts 18th-ranked Nebraska-Omaha this weekend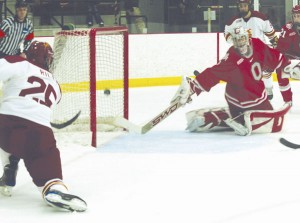 The Ferris State hockey team is ranked 17th in the nation according to U.S. College Hockey Online.
The Bulldogs are 8-0 at home this season and it marks the best home start in school history. Ferris has outscored its opponents 39-16 in eight home contests this season.
The team is 9-3-2 overall and 4-2-2-2 in the Central Collegiate Hockey Association (CCHA). The team is currently fifth overall in the CCHA with 16 points. Ferris is unbeaten in its last six contests and has not lost since Oct. 31. Junior defenseman Zach Redmond said everyone on the team is playing well together.
"All four of our lines are contributing at different times and I think everyone knows their role," said Redmond.
The Bulldogs swept Ohio State in its last contests. In the first game, Ferris scored nearly at will en route to an 8-1 victory. The team scored three goals in just three minutes and 44 seconds to take a quick 3-0 lead.
Senior forward Blair Riley scored three goals for the Bulldogs for his second career hat trick. As a result of his play, Riley was also named National Player of the Week by insidecollegehockey.com.
Senior captain Cody Chupp added a goal and two assists for the Bulldogs. Sophomore goalie Taylor Nelson stopped 20 of 21 shots and senior Jordan Barber stopped all six shots he faced in the third period.
The second game proved to be a different story as the Bulldogs rallied from a three-goal deficit to defeat Ohio State in overtime. Ferris trailed 5-2 early in the third period. Junior defenseman Scott Wietecha said the team last year would have buckled late in the game.
"We didn't get down on each other and no one panicked," said Wietecha.
Chupp began the comeback with a power play goal and Riley scored six minutes later. Senior forward Casey Haines completed the 6-5 comeback on a game-winning goal with 22 seconds left in the overtime session. Junior forward Mike Embach said the win lifted the team's confidence.
"Winning that kind of game is huge," said Embach. "It's probably the coolest game I've been a part of since I have been here."
Chupp had two goals and an assist to cap off a six-point weekend. Riley had four goals and two assists on the weekend and now leads the CCHA with 12 goals scored.
Statistically, Ferris has the best offense in the CCHA, scoring 3.57 goals per game. The team has 50 goals through 14 games.
In addition, Ferris has the top power play in the conference, scoring 25.6 percent of the time. The team is also ranked second in scoring defense and third in penalty kill.
Next on the schedule is a home series against the University of Nebraska-Omaha, which is currently ranked 18th nationally. The Mavericks are 7-4-3 overall and 4-4-2-1 in conference play. Embach said Nebraska-Omaha can score goals quickly.
"We can't give them a lot of power plays," said Embach, "They're a really skilled offensive team."
Ferris went 2-1-1 last season against the Mavericks, including the school's first shooto. Nebraska-Omaha defeated Ferris in the first round of the CCHA playoffs last season.