The women's basketball team dropped its conference opener to Grand Valley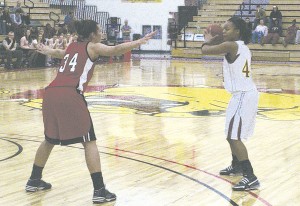 The women's basketball team split their first two home contests of the season.
Ferris started off the home schedule with a 74-66 win over the Lewis Flyers on Nov. 24.
Ferris jumped out to a five point lead early in the first half and took a 30-25 lead into the half on 54.2% shooting from the field.
After holding the lead for the beginning of the second half, the Flyers battled back to force a 50-50 tie with 7:42 left to play. The Bulldogs proved to be too much as they went on 24-16 run at the end to seal the victory.
Leading the way for Ferris was junior guard Becci Houdek, who dropped in 14 points and six assists. Sophomore guard Lindsey Pettit put up 13 points and junior forward Amy Joostberns added 12 points and six rebounds. Pettit said the team was determined to start the home schedule on a positive note.
"Winning the home opener was huge for us," said Pettit. "It's important for us to keep Wink Arena as 'our house'."
Following the victory against Lewis, the team started off the conference schedule on Monday with a contest against rival Grand Valley State.
Ferris came out tough against the Lakers on defense in the first half, holding Grand Valley to 28.6% shooting in the half. The strong defense allowed the Bulldogs the jump out to a 10-point lead with 8:56 left in the half.
Despite holding the lead for 15 of the 20 minutes in the first half, the team could not hold on as the Lakers managed to grab a slim 24-23 lead at halftime.
Grand Valley took the momentum out of halftime and never looked back, as the Lakers held the lead for the entire second half and held the Bulldogs to 33.3% shooting in the half to claim the 57-43 victory. Head coach Tracy Dorow said the lack of second half offensive was due to poor passing and missing some open shots.
"Our inexperience showed through tonight," said Dorow. "I think our passes weren't crisp and some of the shots we just flat out missed. We definitely have some things to work on."
Ferris shot just 19% from the 3-point line and committed 20 turnovers in the game. Grand Valley had 19 second-chance points, while the Bulldogs managed only two. The team made just four of eight free-throw attempts as well.
For the Bulldogs, Houdek scored 12 points while sophomore guard Kelsey DeNoyelles added 11 points and three rebounds.
Ferris will continue the current home stand tomorrow with a matchup against the Ashland Eagles, which enter the game 2-1 overall on the season. The Eagles are scoring 74.6 points per game this season, while the Bulldogs are scoring 62.5 points per
game.