The Ferris State women's cross country team placed 11th at the national meet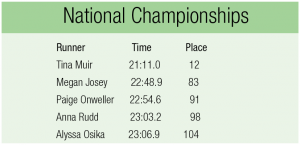 The Ferris State women's cross country team finished 11th at the 2009 NCAA-II National Championships, tying the second-highest result in school history.
Junior Tina Muir led the Bulldogs with a time of 21 minutes and 11 seconds, which was good enough for a 12th-place finish. She earned All-American honors for the second consecutive season. Muir also finished 12th at the championship meet last season.
"When you stand up on the stage receiving the award, it makes all the hard work and dedication put in throughout the year worth it," said Muir.
The field included 184 runners and 24 teams, three from each of the eight major regions. More than 24 schools were represented because some individuals qualified, even if their teams did not. The event took place in Evansville, Ind. and was hosted by Southern Indiana University.
The team improved on its 17th-place finish from last season. The 11th-place finish is the best result the team has seen since 1987 when they finished 11th as well.
Ferris finished one of its most successful seasons ever. Aside from the National Championships, the Bulldogs never finished outside the top three, including a runner-up finish to Grand Valley State in the Great Lakes Intercollegiate Athletic Conference (GLIAC) Championships.
"The team's success is based on the hard work and dedication that each individual has shown throughout the year combined with our coach's love for the sport," said Muir.
Junior Paige Onweller said the course was the most difficult of any the team has raced on this season. Even so, Onweller managed her best time of the season with a 22:54.6. Though she did not finish as high as she would have liked, Onweller said she is not disappointed because she ran her best.
"I just have to remember I was racing against every runner in the nation," said Onweller. "This is the biggest there is, so competition is expected to be tough."
Ferris qualified for the National Championships with a third place finish at the Midwest Regional. The team was one of only two GLIAC teams to compete in the championship meet. Grand Valley State finished second, behind only Division II National Champion Adams State.
Onweller and Muir agree that the team's success is largely owed to head coach Steve Picucci. This was Picucci's first full season as the head coach. He served as the interim head coach during the 2008-2009 season.
"He instills the desire for us to want to work to become better and gives us every direction we need in order to become the best we can possibly be," said Onweller.
Looking ahead to next season, the team should return the entire top seven as they each have at least one year of eligibility remaining. The 15-member team is very young with seven freshmen and no seniors.