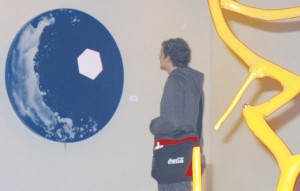 The Rankin Art Gallery will be featuring the Mixed Media Installation "Dwelling" for the first half of December.
Ted Evans is the creator of the work being featured in the gallery. He is from Vancouver, British Colombia and moved to Michigan to become the Director for Artworks in downtown Big Rapids. He is currently a full time studio artist.
Evans received his bachelors degree in fine arts at the Emily Carr Institute of Fine Art and Design. He went on to attend the University of Windsor, Ontario where he earned his masters degree in fine art.
Carrie Weis, Rankin Art Gallery Director, said, "Ted is a conceptual artist and his work addresses the idea of 'dwelling,' a state of being or a location to be lived in and observed."
Weis also said that the work being displayed is considered to be sculptural painting and that Evans constructed three dimensional shaped canvases for his work. Each painting has a lighting element and represents space and architecture. The theme of this series of work is supposed to capture what it would be like to look up through the eyes of a goldfish.
"His work is about the process as much as the concept," said Weis. "The painted surfaces have interesting effects created with acrylic paint, spray paint, and water."
Timothy Geib, graphic design major, said, "The artwork is very different, which I like because it makes you stop and think."
Geib went on to say that having artwork in the middle of the room is a nice touch and that this collection is the best he has seen this semester. He also thinks the lighting incorporated into the artwork is a very creative idea.
"These pieces are really eye-catching and when you get up close to them there is definitely a lot to look at," said Geib.
Jodie Guerrero, elementary education major, said, "I have a lot of interpretations of the art and it's nice to look at the titles of the pieces and have them show me meaning."
Guerrero also said that she really enjoyed the many different colors used throughout the collection.
The exhibit will be on display in the Rankin Art Gallery until Dec. 18 and available for viewing Monday through Friday from 11 a.m. to 4 p.m. For any information about the gallery or this installation, contact Carrie Weis at 231-591-2536.