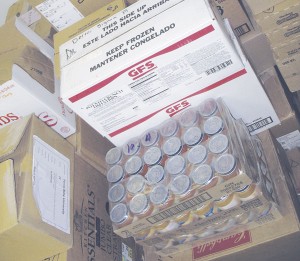 Student government's third annual "Coming Together for the Holidays" food drive concluded Dec. 3 with full campus participation.
"Thanks to everyone for participating," said Liz Cottrell, student government event coordinator. "This will mean a lot to families in need."
A total of 30 campus organizations, including every residence hall, participated in the food drive that began Nov. 9. All proceeds will be donated to Project Starburst and the greater Big Rapids area.
According to Western Michigan Food Banks, over 38 million Americans do not have enough to eat. Western Michigan Food Banks are also anticipating a multi-million pound shortfall between the need for food and food inventories this year.
Students, faculty, and residents brought non-perishable food items to various locations including the student government office, Rec Center, Timme Center, and FLITE donation boxes.
"We wanted the food drive to be a truly campus-wide event," said Claire Gould, student government president.
The food drive also held several residence halls, registered student organizations (RSO) and Greek organization competitions.
Resident Hall Prizes are $200 for first place, $150 for second place and $100 for third place
Student government sent out a special thanks to Dining Services, the Panhellenic Council, Black Greek Council, Interfraternity Council, Domino's, Residential Life, Residence Hall Association, National Residence Hall Honorary and the student government general assembly for their involvement.
Final food totals had not been completely tabulated as of press time.