Ferris wins three straight, heads into conference matchup vs. Findlay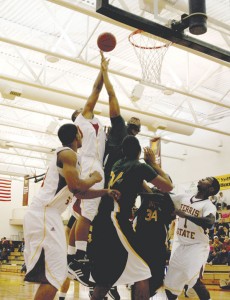 The Ferris men's basketball team is 3-0 in the Great Lakes Intercollegiate Athletic Conference (GLIAC) for the first time in over 12 years.
After the strong home stand, Ferris now stands at 3-3 overall in the season following two home victories against Ashland and Tiffin over the weekend.
Ferris carried a post-win hangover into the Ashland game and the team got off to a slow start. The Eagles came out shooting 53.6 percent in the first half to take a 37-30 lead into halftime.
Halftime proved to be a wake-up call for the Bulldogs, as the team came out firing. Ferris went on a 26-8 run in the first nine minutes of the half and shot 64.5 percent from the field in the second half.
The Bulldogs also played strong on defense in the second half, where the team forced 12 turnovers. The strong play on both sides of the ball allowed Ferris to pull away for an 82-72 victory.
Junior forward/center Justin Keenan led the way for Ferris with a game high 21 points, while senior guard Austin Randel posted 16 points along with four steals. Junior guard Darien Gay chipped in a double-double with 12 points and 10 assists.
Coming off a second straight conference victory, the Bulldogs continued their strong conference play against Tiffin on Saturday as the team coasted to an 82-61 victory.
Ferris came out strong in the first half, as the team jumped out to an early 10-point lead just six minutes into the contest. With the team hitting 52.9 percent of its shots and nine of 15 three-pointers in the half, Ferris headed into halftime with a 21-point lead. Head coach Bill Sall was pleased with the strong first half play.
"We came out and played flat in that first half against Ashland and it was nice to see the guys come out strong today," said Sall. "The guys came out with a purpose today."
The strong first half proved to be all the Bulldogs needed, as the team never let Tiffin get closer than 18 points in the second half and cruised to a fourth-straight victory over the Dragons.
For the Bulldogs, Keenan posted a team-high 16 points along with six rebounds. Senior guards Josh Young and Jon Yeazel both scored 13 points, while freshman forward Daniel Sutherlin added eight points and eight rebounds in his second career start.
The team will now head into a crucial conference match-up tomorrow on the road against defending Division II champion Findlay University, who is 3-1 overall on the season and currently ranked ninth in the NBCA/Division II Coaches Poll. Winning at Findlay will be a tough task though, as the Oilers currently have a 77-game regular season winning streak at home.
"I don't think we have to worry about our guys knowing that they're going to have to play their best basketball against Findlay," said Sall. "Our guys will definitely be pumped for that game."