Ashley Huntey is not done competing this year as she has joined the women's basketball team after a season of FSU volleyball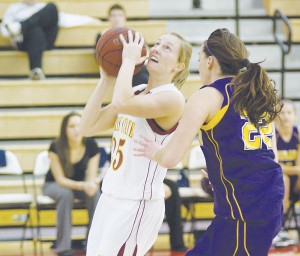 For the last two years, sophomore Ashley Huntey has played volleyball at Ferris and now she is hitting the hardwood.
After helping the Ferris volleyball team reach the NCAA Division II tournament, Huntey has her sights on helping turn around the women's basketball team, which went 13-15 last season.
Huntey, a Stanwood native, played volleyball and basketball all four years of high school and played softball in her junior year at Morley-Stanwood High School. In volleyball, she attained all-state honors all four years, was named the Big Rapids Pioneer Dream Team Player of the Year in her final two seasons, and helped lead her high school to its first state championship in 2007.
In basketball, Huntey was named an all-area performer from 2004-2006 and was named to the all-state team in 2006.
Since she played multiple sports throughout high school, Huntey said it felt strange to play only volleyball in her first year at Ferris.
"I am very competitive, so to me, playing one sport was just awkward," said Huntey.
During the volleyball season, Huntey recorded 229 kills, which was fourth on the team and added 365 digs, which was good for second amongst her teammates. Her contributions helped the Bulldogs earn a trip to the NCAA Division II tournament, which was their first since 2006.
Unfortunately, the trip did not last long as Lewis University swept the Bulldogs in three straight sets. Huntey personally found the loss very frustrating, especially since the team had such a good start to the season.
"The loss was very disappointing, but as soon as the season ended I started playing basketball, which made the loss a little easier to deal with," said Huntey.
One thing that definitely made the transition from sport to sport easier for Huntey is the support that she receives from her teammates. For every home basketball game, her volleyball teammates come to yell and cheer her on every time she enters the game.
"It definitely makes it easier knowing I have such great support from both teams," said Huntey.
Even though playing a sport in college takes up a lot of a student's time, Huntey is also an all-star in the class room. She is taking classes full-time and is currently waiting to be accepted into the nursing program. Huntey is just as competitive sitting in a desk as she is on the court.
"Being as competitive as I am, I feel that anything less than an A is unacceptable," said Huntey.
Huntey started playing sports when she was only seven years old and it looks like she will not be stopping anytime soon; at least not until the end of this year's basketball season.
Huntey laughed as she jokingly said, "For now I think I am just going to keep it to the two
sports."