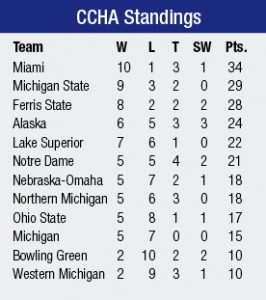 The Bulldog hockey team is third in the CCHA standings, behind only Michigan State and Miami.
Ferris is 8-2-2-2 in conference play this season and 13-3-2 overall. The Bulldogs are undefeated in their previous 10 contests, including a pair of shootout victories over nationally No. 1-ranked Miami.
The 12 teams in the CCHA are ranked by the number of points they have earned this season.  A team earns three points for a win in regulation or overtime and two for a shootout win. A team earns one point for a tie and zero points for a regulation or overtime loss.
On Saturday, Ferris will compete in the 21st annual Badger Hockey Showdown in Madison, Wis. Ferris has the opportunity to make a statement outside of the CCHA with a showdown against Yale University, ranked ninth in the nation.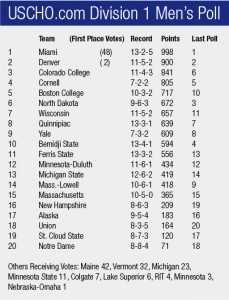 The Bulldogs will either play nationally No. 7-ranked Wisconsin or Merrimack on Jan. 3, depending on the outcome of the first two games of the tournament. In their only two appearances in the tournament, the Bulldogs won in back-to-back seasons in 2003-2004 and 2004-2005.