The nationally No. 11-ranked Ferris State hockey team finished third in the 21st annual Badger Hockey Showdown splitting two games.
On Saturday, Ferris lost 6-1 to Yale University after trailing only 2-1 entering the third period. Senior forward Casey Haines scored in the first period to tie the game at 1-1. Yale scored five unanswered goals, including four in the third period, to cruise to victory.
Ferris was outshot 41-24 in the game and went 0 for 5 on its power play opportunities. Yale scored on two of its five power play chances and goalie Jeff Malcolm saved 23 of the 24 shots he faced. Senior forward Blair Riley said the team was a little rusty coming off of the long break.
"They have a very good offensive team and play a strong puck possession style that seemed to frustrate our team on a bigger sheet at the Wisconsin rink," said Riley.
Yale lost to eventual tournament champion Wisconsin in a shootout and is now ranked sixth in the nation, according to uscho.com.
Following the loss, Ferris defeated Merrimack College 5-1 in the consolation game.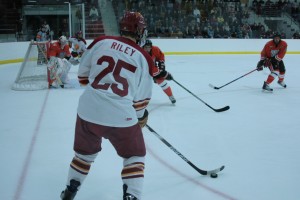 Senior center Cody Chupp and Riley scored first-period goals to give Ferris an early 2-0 lead. The Bulldogs and Warriors each tallied a goal in the second, before Ferris scored twice in the third period to pull away. Senior Casey Haines tallied a goal and two assists for the Bulldogs.
Five different Bulldogs scored and the team outshot Merrimack 31-24 for the game. Junior goalie Pat Nagle stopped 23 of 24 shots to improve his save percentage to .942 on the season.
"We played much more physical in all areas of the rink that seemed to help the team create some time and space to make plays," said Riley.
Through 20 contests this season, Ferris is 14-4-2 overall. The team is far ahead of the 9-8-3 record through 20 games last season.
Conference play resumes this weekend as the Bulldogs travel to South Bend, Ind. to face the Notre Dame Fighting Irish. Ferris is currently third in the CCHA standings, while Notre Dame is sixth. The Fighting Irish fell out of the top 20 national rankings, even after winning the Shillelagh Tournament last weekend.