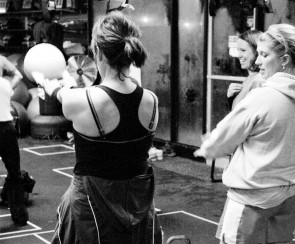 Liberty Gray has helped a multitude of Ferris students change their lives and now trains the women's basketball team.
Gray is the proud owner of Club Liberty in which she trains people with only one tool: Kettlebells.
Kettlebells are weights that look a lot like a cannonball with a handle. Kettlebells have gained popularity in the U.S. in recent years with the appeal of being able to condition the entire body.
Gray, a former body builder, believes that kettlebells are a much better option than traditional weights.
"We discovered them about five years ago in a magazine and fell in love with them," said Gray.
Working out with kettlebells involves total body motion, which trains muscle groups that traditional weights are not be able to hit. They offer more functionality, instead of isolating body parts. The high intensity workouts not only train muscles, but also provide a cardio workout simultaneously.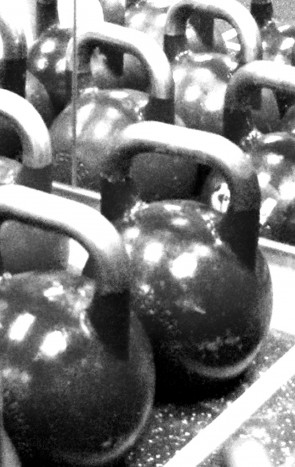 "The great thing about kettlebells is that they keep your workout really fun," said Gray.
Since the workouts keep the lifter in constant motion, kettlebells are great for athletes. The women's basketball team has been working out with Gray so far this season. Even though basketball predominately is not a sport that requires a lot of strength, kettlebells still will help the women on the court. The total body motion from the workouts will make them faster and provide greater strength under movement.
"They hated it at first, but now they have fallen in love with it," said Gray, "It has been a riot working with the team."
Kettlebells also offer the opportunity to compete in a professional sport. The World Kettlebell Club is a worldwide organization that grants rank to all country clubs and their members. Club Liberty currently has more girveviks (kettlebell lifters) that have achieved rank with the American Kettleball Club than any other club in the United States.
The World Kettle Bell Club holds competitions in which girveviks compete in the long cycle and the jerk and snatch. Contestants are divided by gender, weight, and rank.
Annette Jarman, a Ferris marketing student, placed first in her weight division in Las Vegas, Nev. this past year. Freshman Nicole Totten won the overall amateur lifter award in Columbus, Ohio with 327 reps of a 26-pound bell.
Jarman has been working out at Club Liberty for a year and is currently one of the trainers at the club. She began like any other student at Ferris and was looking for a way to lose weight. Since she has been working out with kettlebells, Jarman has lost over 65 pounds.
"Kettlebells have helped me out in so many ways, it is super addicting," said Jarman, "I just cannot get enough of it."
Jarman said kettlebells have done amazing things for her mind and body. She was overweight before and is now competing in a professional sport.
Torch Web Exclusive Video!