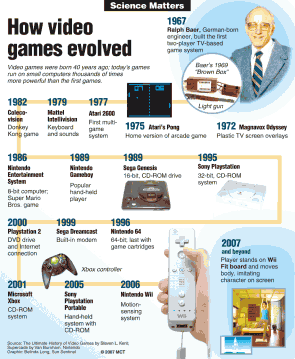 Getting together with friends, hurling a ball down the lane and knocking over some pins is a pretty common activity for many college students, but it isn't always at the bowling alley.
This can all be done in the comfort of a student's living room, playing group-oriented games like Wii Sports, Wii Fitness, Mario Kart, and numerous other games for the Nintendo Wii.
Nintendo's Wii offers a group gaming experience unlike any other. Opposed to other consoles, which tend to be geared towards more deeply involved, "classic-controller" games, the Wii uses a remote that allows you to use your arms and body as an input device. With games like bowling, baseball, tennis, racing, and a growing selection of motion-based interactive games, its more fun than ever to get a group of friends together to play it out on, and off, the TV.
Kelley Sprague, a printing and digital imaging management and new media printing and publishing major, says, "I love the Wii because it is something that everyone can play. There are so many different games that everyone is bound to have fun, or have fun watching others try to play!"
Travis McCrumb, a manufacturing engineering technology major, says "I feel like the Wii makes it easier for people to drop their guard and allow themselves to laugh and have fun with new people."
However, not everyone thinks the Wii's "party game" style is the best. Jim Cloudman, another New Media Printing and Publishing major, feels that the Xbox 360 or PS3 is a better choice for the more-than-casual gamer.
"360/PS3 games require more involvement, more skill, and possess a higher level of complexity, and of course, better visual effects," said Cloudman. He went on to mention that first-person shooter and RPG games have a better experience, as well as more availability, on the other consoles.
The Wii's recent price drop before this past holiday season, from $249.99 to $199.99, helped Nintendo sell over 3.2 million units. Even more interesting is that one of the largest growing demographic is females ages 18 and older. The Wii is helping to bring casual party games to the masses, and getting more people, not just college students, into the gaming mindset.
Do you have any fun Wii experiences? Game recommendations? Leave your comments below and share your opinions!