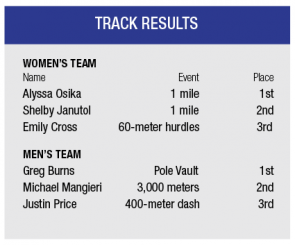 The Ferris men and women's track and field teams started the year strong as they competed in the SVSU Doug Hanson Open in University Center, Mich.
Freshmen Alyssa Osika and Shelby Janutol dominated the mile run and the 3,000 meters, as Osika took first in both events and Janutol was right behind her in second. The women's team took five out of the top six spots in the 3,000 meters.
"It was only the first meet and I know that our team will only grow stronger as we continue our intense training," said Osika.
Freshman Andrea Fogle placed third in the weight throw with a distance of 12.95 meters.
For the men's team, senior Greg Burns took first in the pole vault with a height of 4.7 meters. Michael Mangieri took second in the mile run with a time of 4:19.27 and second in the 3,000 meters with an 8:53.85.
"I just wanted to see where I was at and do better than I did last year at this meet," said Mangieri. "I ran by best time ever by three seconds."
Senior Justin Price also had a respectable showing with a third place finish in the 400-meter dash.
The meet was a non-scoring event, which will not count toward league results.
Ferris will be back on the track on Jan. 22 at the Grand Valley State Bob Eubanks Open in Allendale, Mich.