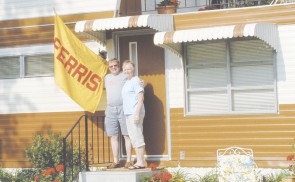 Ferris State University automotive management professor Greg Denny was involved in the making of the film "Youth in Revolt."
Denny and his family rent out a campsite in the Lake Leelanau RV Park in Lake Leelanau, Mich. He received a call from the RV park owner, Don Wilson, in March of 2008 asking if he would be willing to give up his campsite for part of the season because the film company Revolt Inc. wanted to use it.
"He called me before we went camping and initially I thought it was a joke because we have good friends up there," said Denny. "Turns out it wasn't a joke at all."
Denny said that after receiving the call he was excited even after hearing how much time it would take. He talked it over with his wife and they decided within ten minutes that they were willing to give up their campsite for a period of time. The company had to pay him a certain amount of money for the site, which he cannot disclose, because he had signed a contract that made the site his for a year.
"It was the first time our camper moved since we started renting there years ago," said Denny.
Denny said that they did about 10 actual days of filming at his campsite, but the process took about two months due to set building and demolition. He was able to be there for only the last three or four days of filming because he had to teach in Big Rapids and Detroit during the week.
Even though he missed some of the filming, he said that he and his family were up there a lot before the filming started and they got to know the painters and carpenters very well. They were not able to get to know the actors and actresses as well, though.
"A funny story about Portia Doubleday, the main girl in the movie, is that she wouldn't talk to me for the rest of the time she was filming because I told her that she shouldn't smoke," said Denny with a laugh.
Denny saw the movie when it came out in theatres on Jan. 8.
"It was a typical younger person movie," he said. "I was trying to recognize people, trucks, the beach and other things during the movie so I wasn't really paying attention to the actual movie too much."