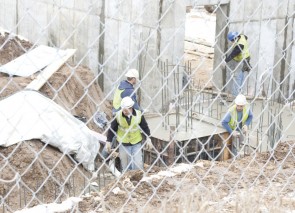 The optometry building project at Ferris State University has been using local resources and workers to keep Michigan tax dollars in state.
"It just made more sense to use local and Michigan resources," said Michael Hughes, Associate Vice President for the physical plant. "Ferris figured that if we were going to use Michigan tax dollars, it would be best to keep those dollars in state."
The physical plant defines the term "local" as companies and resources within a 60 mile radius of Mecosta County. 63 percent of the project was awarded to businesses within the 60 mile radius, while 25 percent of the project was awarded to statewide businesses, only 11 percent of the project will come from out of state.
Companies like Traverse City Glass, Lansing Tile and Mosaic, Detroit Technical Equipment and Nugent Builders from Rockford are just a few examples of the term "local" and the kind of work the new Michigan College of Optometry (MCO) building will require.
So far, 73,000 local hours and 19,000 Michigan labor hours have been contributed to the project with no out of state hours used.
The optometry project, which started in May 2009, will transform Pennock Hall from a 50,900 square foot residence hall into an 87,980 square foot state of the art facility. The $26.9 million state funded project is expected to provide more classroom and clinic space as well as a library, a student lounge and locker space for students. Michigan state funds will provide 75 percent of the building's funds and Ferris will accumulate the remaining funds.
Michael Cron, MCO dean, the believes the new facility will likely enhance MCO recruitment abilities for both students and faculty. Cron also said the new clinic will be on the ground floor to be more convenient for patients.
MCO is currently the only optometry college in the state of Michigan. The new MCO building will be known as the Center for Collaborative Healthcare Education and is expected to be finished by 2011.
Although the optometry building will be increased by 37,080 square feet, the university does not plan to employ more instructors or staff. An increase in MCO enrollment would determine whether Ferris will hire more instructors.
"We haven't got it all figured out yet, but the university will accommodate any need to increase staff," said Hughes.
Hughes said the state's current two billion dollar budget problem will likely keep the university from adding more staff. Institutions like Ferris rely on state funds; however, there will be no stimulus refund next year, causing the institution to cut back on staff to keep tuition dollars down.