Like most kids growing up in Canada, all Blair Riley has ever wanted to do is play hockey.
"For most kids in Canada obviously it's the number one thing," said Riley, "That's all that's on TV and it's everyone's dream to play hockey."
Through 24 games this season, Riley is tied for fourth in the nation with 16 goals. His 27 points rank him in a third-place tie in the Central Collegiate Hockey Association (CCHA). He is also tied for first in the conference in short-handed goals.
His efforts this season have brought national recognition as Riley has been nominated for the Hobey Baker Award, given to the nation's best college hockey player. Riley said he was surprised when he heard the news.
"I don't know what to say," said Riley, "It's obviously a great honor and it's something that you don't really think about happening."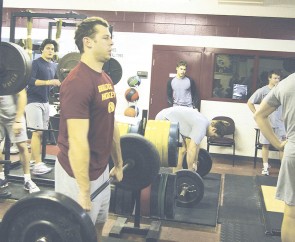 A native of Chase, British Columbia, Riley began skating when he was four years old. By the age of five , he was playing hockey. His hometown did not have an ice rink and he began playing in Kamloops, British Columbia, where Riley lives today.
Before coming to Ferris, Riley played for two seasons with the Nanaimo Clippers, in the British Columbia Hockey League. Riley amassed 146 points, 82 of them goals, in 120 games played.
Riley said Ferris associate head coach Drew Famulak has family on Vancouver Island where Riley was playing at the time. Someone mentioned his name to Famulak and the Bulldogs lost a player early to graduation, so Riley said it just worked out. He also knew the value of a quality education.
"The idea of playing hockey at a high level and getting your education at the same time seemed like a good deal," said Riley.
Riley said he attributes some of his personal to success to the hard work he put in over the summer with professional strength and conditioning trainer Greg Kozoris, who trained NHL player Shane Doan for seven years. Ferris head coach Bob Daniels said Riley is scoring this semester like he expected him to.
"What we're seeing from Blair now is not a fluke," said Daniels, "It's not just luck, it's him."
Most of all, Riley attributes his play to his senior linemates Cody Chupp and Casey Haines. He said he has been linemates off and on with Chupp since his sophomore year. This is the first year being on the same line consistently with Haines because they have both played left wing over the last three seasons. Daniels said Riley is hitting his stride and reaching his potential.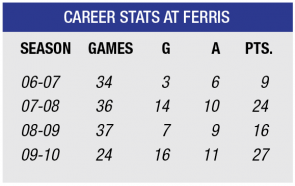 "Any individual awards you get in this game are a reflection of the team and how well the team is doing," said Riley.
This is the best team Riley has been on in his career at Ferris. Riley said he is proud to be ranked amongst and ahead of some Big Ten schools, as hockey is the only Division I sport Ferris has. The team's goal since the beginning of the season has been to finish in the top four in the CCHA, make it to Joe Louis Arena for the league championship, and receive a bid to the NCAA Tournament.
"It feels good to bring any sort of recognition to this university because we love it here and it's a pretty neat thing," said Riley.