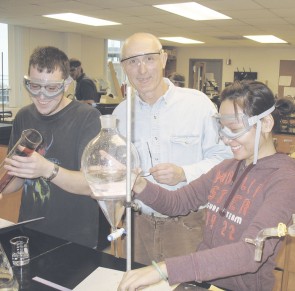 As a teacher in both the classroom and on the court, Bill Killian has been an important figure at Ferris for more than 20 years.
Killian, a Chicago native, is a professor in the physical sciences department and is the coordinator of the Industrial Chemistry Technology Program.
When Killian is not teaching students in the classroom, he is mentoring students on the court as a volunteer assistant coach for the men's basketball team. Killian also serves as a Michigan-based scout for the San Diego Padres of Major League Baseball during the summer.
With all of the duties Killian has taken on, staying busy is not a problem.
"There is not much free time for me, that's for sure," said Killian. "It gets hectic sometimes trying to be a program coordinator and teacher, while also trying to run over to practice after I get done teaching."
Starting in his days as a four-letter athlete in basketball and baseball at North Park College in Chicago, Killian soon became interested in teaching after serving as a graduate assistant while he completed his master's degree at Ohio State University.
"It turned out that I really liked teaching more than anything I was doing at the time," said Killian. "When I became interested in teaching, I knew that I wanted to get into coaching, as well."
After his time at Ohio State, Killian pursued his coaching aspirations by becoming the head baseball coach at St. Francis DeSales High School in Columbus, Ohio. During his tenure, Killian led the team to a 92-26 record and state championship in 1979 until he returned to North Park as an assistant basketball coach. During his time there, North Park won the Division III National Championship in 1986.
After leaving North Park, Killian followed his teaching aspirations to Ferris, where he was hired as a chemistry professor in 1987.
When he landed the teaching job, Killian went to work latching on with the basketball program, by contacting then coach Tom Ludwig in hopes of joining his staff.
"I just started talking with Tom and I told him about my coaching background and my love for the game," said Killian. "After that, it just worked out for both sides."
Besides joining the basketball staff, Killian also served as an assistant for the baseball program from 1988-1992. After spending seven seasons helping players develop their basketball skills, Killian ended his tenure as a coach in 1995 when Ludwig left the program.
It was not until 2002 when current men's head basketball coach Bill Sall was hired that Killian got back into coaching. Killian was one of the first people Sall contacted to join his staff.
"I did always hope that I would get back into coaching and I was honored when Bill asked me to join his staff," said Killian.
When Killian is not helping students on the court or in the lab, he spends his time with his wife Michele and his three sons, Billy, Dan and Joe. Killian keeps his priorities balanced as a family man as well as a teacher and coach.
Killian's athleticism has rubbed off on his sons as well, as both Billy and Dan have been drafted by Major League Baseball teams recently.
With all Killian has going for him right now, the simple joy of helping students learn keeps him passionate about teaching and coaching.
"It's easy to work both teaching and coaching into my schedule since I love both so much," said Killian. "It's just so gratifying for me to help out a student and see him/her succeed."