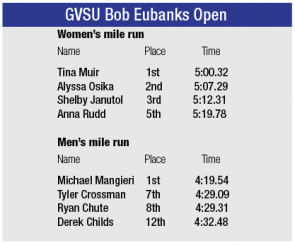 The Ferris State women's and men's track teams combined for 14 individual performances in the top eleven at the GVSU Bob Eubanks Open.
The women's team took four of the top five spots in the mile run, which included 35 runners. Three of those top four finishers for the Bulldogs were freshmen.
Junior distance runner Tina Muir provisionally qualified for the NCAA II Indoor Championships in the mile with a time of 5:00.32. Muir won the event by over four seconds in a field of 35 runners. She also won the 3,000 meters with a time of 9:58.00.
Junior Jade Kaufman placed seventh in the 400 meters with a time of 1:02.12. Bulldog Senior Emily Cross finished second in the high jump with a height of 5-3.75. Cross said with continued hard work, she feels she has a chance to qualify for nationals.
"I struggled a lot last year, so to be able to have such clean hurdle races and good attempts at high jump is really uplifting," said Cross.
Cross also said the distance squad is very good and the sprinters and throwers continue to improve daily.
"I think all around, for the resources available, we have a strong team with a lot of driven athletes who will always strive for their best," said Cross.
The men's team had four runners finish in the top 12 in the mile run. Michael Mangieri won the 55-runner event, while sophomore Tyler Crossman finished seventh.
Mangieri finished fourth in the 800 meters with a time of 1:55.50. Following a victory in the pole vault last week, senior Greg Burns finished eighth this week with a height of 14-9. In the 400 meters, senior Justin Price finished 11th with a time of 51.38.
Freshman Ryan Chute placed eighth in the mile for the Bulldogs. Chute said the team needs to continue to work hard to get better and stronger throughout the season.
"Coach Picucci has us all on the right track and making vast improvements over last year," said Chute.