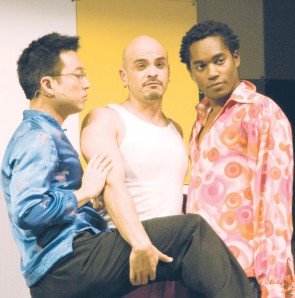 The events from last week's annual Dr. Martin Luther King Jr. (MLK) Celebration were received favorably by a responsive Ferris community.
This year's theme was "The Jim Crow Era: Now and Then."
Michael Wade, Assistant Director of the Office of Multicultural Student Services (OMSS), said the entire week was a success, in his opinion. He said every year the goal of the MLK Celebration is to offer as many opportunities for learning and interaction as possible for students and the community together.
"We wanted to offer opportunities for students to get engaged and learn more about Dr. King and I believe we did get that this year," said Wade.
Since its inception, Ferris' MLK Celebration has been growing and expanding every year. One way that the OMSS helped do this was to extend the events for a full week starting about five years ago.
The festivities kicked off with the annual MLK Freedom March, which took place on Monday, a big change according to Wade. This year over 200 students, faculty, administrators, and community members participated in the march from Merrill/Travis Hall to the Rankin Center.
"In the past, the march has always been on Sunday," he said. "This year we moved it to Monday because we thought it might accommodate more people."
Another annual display, the Tunnel of Oppression and Room of Reflection Exhibit featured a mixed media display of images of groups oppressed during the Jim Crow Era as well as some groups today that are struggling for equal rights and fighting oppression.
The Tunnel of Oppression is designed to challenge perspectives on numerous forms of oppression including sexism, racism, homophobia, war and other forms of discrimination
Freshman Krista Testolin said, "I was impressed with the number of facts that surprised me and the graphic images that I had not imagined."
She did note, however, that she was disappointed that Native Americans were omitted from the tunnel.
The Room of Reflection offered ways that individuals can get involved in spreading awareness and taking action against oppression today.
A new feature to the lineup of events this year was the N*W*C Race Show.
The show tells the real-life experiences of three young men from different ethnic backgrounds. The show focused on how to deconstruct the notion of race in America and conveyed the message that there is only one race: the human race.
The show utilized drama, hip-hop, slam poetry, and stand-up comedy to address themes and issues related to racism, racial slander, ethnic identity, and media representation and world perception of racial stereotypes.
Ethan Pineda, a junior in the nursing and biology programs, thought the presentation was going to be a more serious program and was surprised by the use of humor throughout the show.
"The way they were able to bring comedy to [the show] while still getting their message across was really cool," said Pineda.
The N*W*C Race Show, held in Williams Auditorium, brought in over 600 people, which Wade called "a definite success."
Although the 2010 MLK Celebration has come to a close, Wade is already looking toward next year. He hopes that the event can become even more meaningful and continues to present campus with an opportunity for learning.