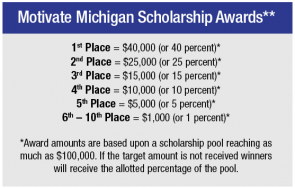 Michigan's economy has been severely impacted by the recession, but CIBER, Inc. and its partners are looking to Michigan students for solutions on how to improve it.
The program is called the "Motivate Michigan" initiative. It is an idea-based competition designed for economic impact. Students are able to submit ideas on how to improve Michigan's economic situation and can win one of 10 possible scholarships for their ideas.
"I like how Michigan is making an effort to hear from students in return for a scholarship opportunity, especially now that the Promise [scholarship] is gone," said Eric Simone, a junior in the psychology program.
Simone also said that the initiative is a good way to hear ideas about improving the economy from "outside the political realm."
Incoming freshmen and current students in accredited Michigan colleges and universities can work as teams or individually to submit innovative ideas on how to improve the economy.
Student entries must consist of three elements: a problem statement, fewer than 100 words; the proposed idea, fewer than 500 words; and the expected outcome, fewer than 250 words.
The ideas will be judged based on creativity, originality, practicality, and the potential economic impact it will have on the state.
If chosen to be one of the semi-finalists, students must then create a 150-word abstract or a two-minute video to be posted online to allow the general public to vote on which idea they believe is the best.
The top five finalists will then need to create a 15-minute presentation and are required to bring their ideas in front of a panel of judges, comprised of representatives from the initiative's corporate sponsors, to choose a winner.
The winning idea will then undergo a feasibility test and an implementation plan will then be developed by CIBER, Inc.
For more information, or to submit an idea, students can visitMotivateMichigan.org. All entries must be submitted no later than Feb. 26.   ν