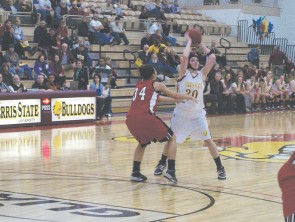 The Ferris State women's basketball team lost four of five games during its longest road trip of the season.
Ferris is 5-12 overall this season and 4-8 in Great Lakes Intercollegiate Athletic Conference (GLIAC) play. The Bulldogs are currently fifth in the GLIAC North Division Standings and are tied for eighth in the overall conference standings.
After Saturday's 68-62 loss at Northwood, Ferris is on a three-game losing streak. All three losses have been by six points or fewer. The team averages 60.7 points per game, while allowing 68.3 points per game.
In the first half against Northwood, Ferris shot 47.8 percent, while holding the Timberwolves to 30.8 percent shooting. The Bulldogs held a 36-29 advantage at the half. Ferris scored the first eight points of the second half and led by 15 early in the half.
Northwood went on a 14-0 run to erase the Bulldog lead. As a team, Northwood outscored Ferris 39-18 over the final 15 minutes of the game. The Timberwolves outshot Ferris by over 23 percent from the field in the second half.
Junior guard Becci Houdek scored a team-high 16 points for the Bulldogs. Sophomore guard/forward Kelsey DeNoyelles added 15 points, while sophomore guard/forward Tricia Principe added 14 points and seven rebounds.
Northwood forwards Pam Wilson and Jodi Ostergren combined for 46 points, 22 rebounds and four steals to lead the Timberwolves.
The Bulldogs lost 69-63 to the Wayne State Warriors in Detroit.
Five Ferris players added eight points or more for the game. Principe had a team-high 12 points. DeNoyelles added 10 points and nine rebounds for the Bulldogs.
Ferris shot 39.6 percent from the field, while Wayne State shot 48.3 percent. The Bulldogs shot 15.4 percent from the three-point line as well. As a team, the Bulldogs outrebounded Wayne State 43 to 29.
The next four games for the Bulldogs will be played at home, where the team is 4-2 this season. Ferris allows 4.5 points per game less at home than on the road. The schedule does not provide a break, however, as the next four games are against teams in the top five of the GLIAC.
The Bulldogs host Northern Michigan on Jan. 28 at 6 p.m. in Wink Arena.