After arriving in Big Rapids Thursday afternoon, the members of Theory of a Deadman decided to get out on the ice at the Ewigleben Sports Complex and shoot some pucks around.
The Canadian rock band, known as TOAD for short, came to Ferris to headline the annual January Jams concert. Dean Back, the band's bassist, is no stranger to having some fun with bands like Motley Crue and Daughtry.
"The whole summer with Motley Crue was a blast," said Back. "Most of those guys have settled down, but Tommy [Lee] is still crazy."
Back shared a story about Lee shooting off fireworks from his tour bus after getting bored.
"We have the hockey package on the bus, so we usually sit on the tour bus and watch hockey," said Back of the band's more typical pre-performance rituals.
TOAD will also be playing at the Winter Olympics coming up in Vancouver. They will be playing alongside other Canadian acts such as Nelly Furtado, Barenaked Ladies and Loverboy, among others.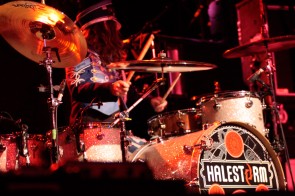 "We were lucky enough to be asked and are honored to play the Olympics," said Back.
The most recent album released by TOAD was in 2008, titled "Scars and Souvenirs." They have three albums total and have been playing as a band since 2002.
The success has come at a price; with the rigorous worldwide touring schedule the band has undertaken since its beginning, Back said, "It's a dream come true. I recently had a little girl, so I miss home and miss my family…but they're very supportive."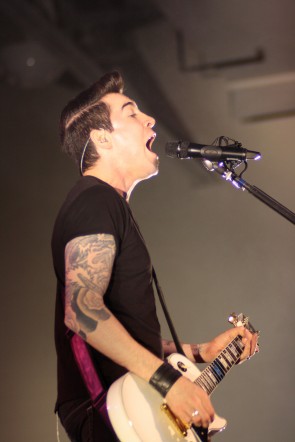 TOAD came on stage around 9:30 p.m. after opening acts Halestorm, Adelitas Way and Taking Dawn finished, to a crowd of Ferris students screaming and holding "rock on" fists in the air Thursday night. They entertained the crowd with heavier songs as well as a string of acoustic songs mid-way through the show.
After the first few songs, lead singer Tyler Connolly said to the crowd, "We are Theory of a Deadman and we're going to play a little rock and roll for everyone, if you don't mind."
The annual event was sponsored by the Delta Chi fraternity, Entertainment Unlimited and local Y-102 radio station with funds as allocated by the finance division of Student Government.
For more photos, check out the January Jams Photo Gallery.