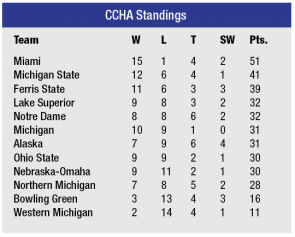 The nationally No. 11-ranked Ferris State hockey team is placed third in the conference standings with eight games left in the regular season.
After Michigan State fell 5-4 to Michigan on Saturday, Ferris is just two points behind the Spartans with 39 points. Nationally No.1-ranked Miami leads the Central Collegiate Hockey Association (CCHA) with 51 points; with only one of the top six teams in the conference remaining on its schedule, it will probably finish there.
Beyond the top three teams, the middle of the CCHA standings is congested as seven teams are separated by only four points. The final four weeks of the season should make for some great entertainment as teams jostle for playoff positions.
Perennial powerhouses Michigan and Notre Dame are hitting their stride and could be dangerous in the CCHA tournament. Alaska, Ohio State and Nebraska-Omaha fall in line behind them and will be looking to move up in the final month.
Ferris is in position to finish in the top four in the conference, something it hasn't done since 2003. A top-four finish guarantees a first round bye in the conference tournament and a home series in the quarterfinals. Bulldog head coach Bob Daniels said that has been a primary goal since the beginning of the season.
The Bulldogs are ranked second in the CCHA in offense and defense. With over 20 penalty minutes per game, however, Ferris is also the most penalized team in the CCHA.
The remaining schedule isn't exactly a cake walk, as the Bulldogs host Northern Michigan before travelling to the upper peninsula to play at Lake Superior State.
Ferris has a huge home-and-home series against Michigan State the following week, which could decide second place in the CCHA. The season concludes with a home-and-home series against rival Western Michigan, ranked last in the conference.
Ferris has eight games remaining, while Michigan State and Notre Dame have only six. The Spartans travel to Alaska before closing out the season with a series against Ferris and Bowling Green State.