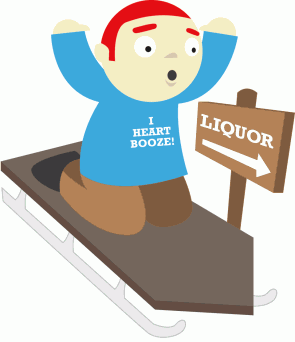 There has been a rumor circulating for years around the Ferris campus that in the blizzard of 1978, classes were cancelled and all of the local liquor stores sold out.
Bob Grunst, owner of Grunst Brothers Sport Center and Party Store, confirmed that this is only a rumor.
"It was an impressive day, but no, we did not sell out," said Grunst.
Grunst said they sold a lot of alcohol that day and were very busy, but they did not sell their entire inventory. He said it is possible that some of the smaller stores in town at the time sold out, but Grunst Brothers did not.
The blizzard of 1978 is a storm that is remembered vividly by many who experienced it. The entire Great Lakes region was hit hard, with Muskegon alone receiving 30 inches, a record 24-hour snowfall, according to midmichiganweather.com.
The Ferris campus was closed that day, and some students were no doubt out buying alcohol in any fashion manageable. Grunst said that he remembers customers coming up on toboggan sleds and cross country skis.
Ferris was not alone in having a snow day. The Michigan Daily, the University of Michigan student newspaper, reported that one of their only snow days in history occurred during this storm.
The blizzard of 1978 is reported to have lasted from Jan. 26 to Jan. 27.
"They [students] couldn't get to class, but they could make it out to get liquor…you got to have your priorities in order," said Grunst sarcastically.
Snow days have been few and far between since then. As Grunst said, they had a very busy day, but the rumor of all liquor stores in town selling out due to the snow day is not true.