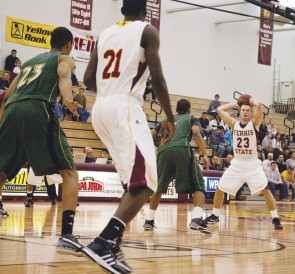 The Bulldogs are amidst a six-game winning streak after claiming two home victories over the weekend.
The Bulldogs are 12-7 overall this season and 10-4 in Great Lakes Intercollegiate Athletic Conference (GLIAC) play. Following losses by Lake Superior State and Saginaw Valley State, Ferris moved into second in the GLIAC North Division standings and third in the overall conference standings. Bulldog junior center Justin Keenan said the team has gained confidence, but knows the team needs to finish the season strong.
"I feel like this is a great turning point in the season," said Keenan. "We have to stay right in the race and keep winning."
Bulldog senior guard Jon Yeazel said since the winning streak began, the team has not looked back.
"We're really executing our game plan for the most part and that is what's helping out a lot," said Yeazel.
Ferris improved to 5-2 at home this season after defeating the Michigan Tech Huskies 67-63 on Jan 30. The Bulldogs trailed by seven early in the first half, but outscored the Huskies 37-24 over the final 16 minutes to take a 41-35 lead into halftime.
Ferris led by as many as 11 points and never trailed in the second half. The Huskies pulled within two points with 54 seconds left, but did not score again. Bulldog coach Bill Sall called the second half a "battle."
"You have to be ready for that and whenever we play Tech it's always a war."
As a team, the Bulldogs forced 17 turnovers while committing just nine. Keenan had game-highs with 26 points and seven rebounds. Four Bulldogs scored in double figures for the game.
The Bulldogs were victorious despite playing shorthanded. Senior guard Josh Young missed the game due to personal reasons and freshman forward Daniel Sutherlin did not play due to illness.
"We had some major obstacles," said Sall, "There were not many bodies to turn to."
Ferris sophomore guard Dante Molden suffered a tailbone injury early in the second half and played sparingly the rest of the game.
"We needed him and he hit a huge three pointer for us and played through the pain well," said Sall.
Ferris hosts the Hillsdale Chargers at 8 p.m. on Feb. 4 and the Findlay Oilers at 2 p.m. on Feb. 6 to close out a four-game home stand. Hillsdale is seventh in the GLIAC standings, while Findlay is in first. Findlay has won 13 consecutive games and is ranked in the top 25 in the National Association of Basketball Coaches (NABC) Division II Coaches Poll.