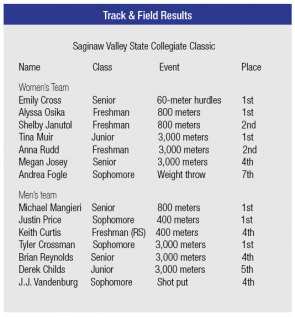 The Bulldogs are amidst their second five-game losing streak this season.
Ferris is 5-14 overall this season and 4-10 in conference play. The Bulldogs will be looking to break their losing streak as they continue their four-game home stand against Hillsdale (9-9) on Feb. 4 and Findlay (15-4) on Feb. 6. Ferris lost to Findlay by 28 points and Hillsdale by 20 points earlier this season on the road.
On Saturday, Ferris dropped its fifth conference game in a row as they lost to nationally fourth-ranked Michigan Tech 75-58. The women put forth a strong effort for much of the contest, as they were able to pull within three points with 14:37 left to play.
The Huskies went on a 21-2 run midway through the second half to put the game out of reach. Michigan Tech guard Katie Zimmerman made eight three-pointers, five of which came in the second half.
Bulldog junior forward Tiara Adams led the team with 16 points and 11 rebounds. Ferris junior guard Becci Houdek feels the team can remain competitive the rest of the season.
"We need to keep coming in with a lot of confidence because obviously we can play with these teams," said Houdek.
The Bulldogs lost 56-54 to Northern Michigan on Jan. 26, as Houdek missed the potential game-tying shot with three seconds remaining.
Northern Michigan led for most of the contest, as they were able to open up a 12-point lead early in the second half.
The Bulldogs battled back and tied it up at 51-51 with just over six minutes remaining. Coach Tracey Dorow thought her team played hard, but said they cannot afford a let up and keep digging holes for themselves.
"It's disappointing we put ourselves in a 12-point hole," said Dorow. "We just did not take care of business."
The Wildcats stepped up their defensive effort and held Ferris to only one field goal the rest of the game. Houdek led the way for Ferris as she tallied 12 points, six assists, and five rebounds. Adams contributed 10 points and four rebounds for the Bulldogs.
Ferris shot 42 percent from the field and held Northern Michigan to 34 percent shooting.