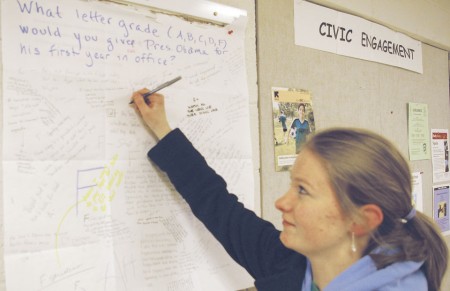 Ferris State University's Wall Poster Democracy has become a forum that allows student voices to be heard across campus.
Located in Ferris' Starr building, Wall Poster Democracy asks both faculty and students to openly express their views on issues affecting the campus community. Created by Dr. Donald Roy, political science professor at Ferris State University, Wall Poster Democracy serves as both an ear and voice to those who have read or written ideas under its various topics.
Debuting in 2007, the poster has gained campus-wide attention for presenting both controversial and thought-provoking political and socioeconomic issues.
When asked about student reactions on campus, Roy said his poster has evoked both positive and negative emotions. Though he feels there remain topics many refuse to discuss, he prides himself in having offered an opportunity for individual opinion.
"At first, there were just off-the-wall remarks until some students started to get into it and wrote coherent, thoughtful remarks," said Roy. "In this sense, it turned out to be a great success and I am very happy about that."
Duane Roberts, a sophomore in applied speech communication, believes the poster has given students a convenient outlet to express their social concerns.
"Students might not attend town hall meetings or public discussion forums, and it only takes a few moments to write it down on paper. The wall is one way for students to voice their opinions anonymously, vent out frustrations or what they believe is right," said Roberts.
Witnessing discussions evolve over the years, Roy ultimately hopes the pages of Wall Poster Democracy will continue their legacy of providing a space for faculty, student and staff ideas to congregate.
"I teach political science and I believe in the necessity of dialogue," said Roy.
Whether it has been through dividing or uniting students on its various issues, Wall Poster Democracy has helped to both create and shape a voice for those at Ferris State University.