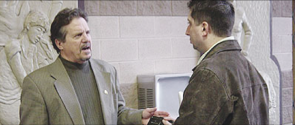 The Ferris State football program added 24 new prospects as the team announced its 2010 recruiting class on National Signing Day.
Bulldog head coach Jeff Pierce made the official announcement at a press conference on Feb. 3.
This year's recruiting class is comprised of 22 prospects from Michigan and one prospect from Indiana and Illinois respectively.
The 24-prospect class falls just short of last year's recruiting class of 26 signees, making the last two recruiting classes two of the largest of Pierce's career at Ferris. Pierce was excited about the high percentage of players the team signed that the staff initially targeted.
"I think that has a lot to say about the whole package we have at Ferris," said Pierce. "I think we got 24 top-caliber high school players to come in and give us a strong future."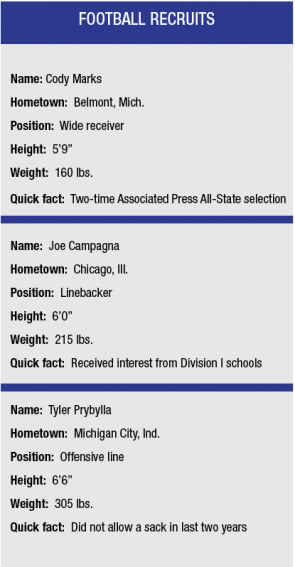 With 13 commits on defense and 11 offensive signees, the recruiting class reflects a balanced strategy for Pierce.
"Every year you try to get a balanced recruiting class," said Pierce. "You always have to look two or three years down the road and try to keep a balanced roster and not have too many holes."
On the defensive side of the ball, linebackers were the focus of this year's class as five of the 11 defensive commits come from the linebacker position. The Bulldogs needed to replace four graduating seniors from the 2009 team.
The linebacker signees include Detroit area All-Metro honoree Shane McClain, who led Warren De La Salle to the Michigan High School Athletic Association (MHSSA) Division 2 State Semifinals in 2009. Joining McClain is Lake Orion's Kane Hayes, who was named one of the state's top 75 players by the Oakland Press after making 78 tackles as a senior.
On the offensive side of the ball, Ferris added size along the offensive line by landing Michigan City, Ind. prospect Tyler Prybylla. Prybylla was named one of the Primetime Top 25 players according to the Indiana Football Digest.
One interesting prospect on the offensive side of the ball is Belmont native quarterback Cody Marks, who is projected to switch to wide receiver for the Bulldogs. Marks was the Flint area's all-time leading passer and is the second-leading prep quarterback in MHSSA history with 7,906 passing yards and 75 touchdown passes.
Trevor Crittendon, a Comstock Park native, will figure to give the Bulldogs some help at tight end as he averaged more than 20 yards per catch in high school. Crittendon was considered one of the top tight end prospects in the state.
"Overall, I think we really added some quality players to our team," said Pierce. "These players are going to help build this
program."