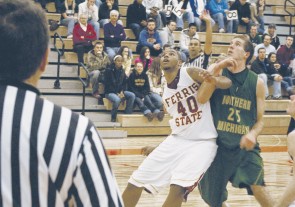 The Bulldogs showed what they were capable of Saturday, as they upset the No. 19 nationally-ranked Findlay Oilers in thrilling fashion 86-77.
Ferris junior forward Justin Keenan displayed why he is one of the best players in the Great Lakes Intercollegiate Athletic Conference (GLIAC) as he scored a career-high 35 points. Keenan has won four straight GLIAC North Division "Player of the Week" honors.
Keenan gave the Bulldogs a one-point lead with 34 seconds left in the first half and Ferris did not relinquish that lead the rest of the game. Ferris looked to be in control as they opened up a 10-point lead with 13:58 to go, but Findlay surged and trimmed the Bulldogs lead down to one. Head coach Bill Sall was pleased with the effort the Bulldogs gave against a tough opponent.
"I am really proud of how everybody played," said Sall. "Everybody played with good emotion and passion."
For the Bulldogs, senior guard/forward Austin Randel, junior guard Matt DeHart and junior guard Darien Gay scored in the double digits as they recorded 16, 12 and 10 points respectively.
The win snapped a five-game losing streak against the Oilers, including a 90-62 shellacking earlier this season in Findlay, Ohio. The victory was only Ferris' second win against the Oilers in the past 45 years. Findlay won the NCAA Division II National Championship last season with a perfect 36-0 record.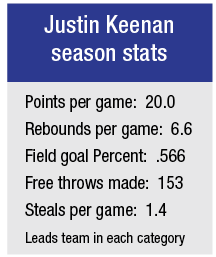 "Hopefully we can feed off this and if we keep playing like this, we will be playing for quite a while," said Sall.
It was a much different team that played against Findlay than the one that showed up on Thursday night to take on Hillsdale. Ferris came flying out of the gate and opened up a 15-point first half lead, only to fall apart in the second half as Hillsdale stormed back to win 96-85.
"We definitely let one get away," said Randel. "We just fell apart in the second half."
The defensive meltdown started near the end of the first half as Hillsdale cut its deficit down to eight at the break. The Chargers shot 63 percent from the field for the game.
"We played horrible defense," said Sall. "We got lethargic as the game went along."
Keenan scored 20 points and Randel notched 19 points in the losing effort.
The Bulldogs have won seven of their last eight games and their record now stands at 13-8 overall and 11-5 in the conference. The Bulldogs will travel to the upper peninsula to take on Michigan Tech on Feb. 11 and then battle Northern Michigan on Feb. 13 as they start a four-game road trip.