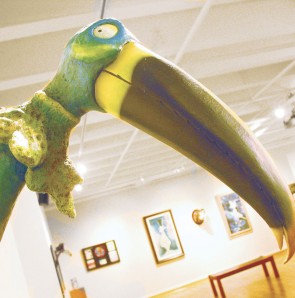 Dr. Seuss' private artwork is on display in a three-week exhibit at Rankin Art Gallery.
Seuss, as he is known to most of the world for his beloved children's books, is actually Theodor Geisel.
The exhibit is made up of 30 panels of Geisel's explaining his life and work, according to Carrie Weis, curator of the Rankin Art Gallery.
A National Touring Exhibition curated by Bill Dryer of the Chase Art Group, the work on display includes political cartoons, Unorthodox Taxidermy and others.
"The works in the exhibit 'The Secret Art of Dr. Seuss' are more sophisticated than the children's illustrations. Most people don't think of him as a fine artist, but the paintings and prints in this collection will dispute that impression," said Weis.
While his works often feature fictional characters like the Grinch and the Lorax, his purpose behind the storyline is very real. Weis said the Lorax really was about consumerism, industrialism, the abuse of non-renewable resources and the lack of respect we as a species show our planet.
"He was very politically active. He had strong opinions of WWII, Hitler and the economy during that period of time," said Weis.
A special reception is planned for Thursday, Feb. 11 including a unique "Seussical" menu provided by Ferris catering free of charge from 5:30 to 7 p.m.
The Rankin Art Gallery is located in the Rankin Center across from Seattle's Best Coffee shop.