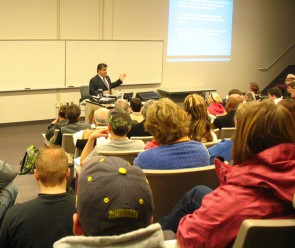 Consul General Ugur Kenan Ipek says that the goals of the United States and the goals of Turkey are aligned and sharing the culture of the two countries is imperative in a globalized world.
"Both of our countries are looking for peace and stability," said Ipek.
As Consul General, Ipek serves as a diplomat of Turkey to the U.S. and is based in Chicago, Ill. Ipek covers 12 states in the Midwest.
Director of the Faculty Center for Teaching and Learning Todd Stanislav and Associate Professor of Chemistry Dr. Piram Prakasam spearheaded the visit as part of the Globalization Initiative and the office of Diversity and Inclusion's effort to bring notable outsiders to Ferris' campus.
Ahmet Demir, a political science major and Turkish citizen, was excited about the opportunities that connections between his home country and Ferris brought.
"It feels like I did something for my country," said Demir, who is also the number one single on Ferris' tennis team. "It's a benefit to students to create a relationship."
Prakasam started thinking about this type of occasion two years ago while traveling in his home country of India and it strengthened further upon attending a conference.
"As a chemist, I was concerned about the outsourcing of chemistry-based jobs," said Prakasam. "What do I tell my students?"
Prakasam believes that knowledge of different cultures can better prepare students for different opportunities.
"Opportunities like this are part of preparing students to be leaders in a global society," said Stanislav.
Consul General Ipek spoke during a presentation highlighting the Republic of Turkey and its connection with the U.S. titled "Turkish Foreign Policy: Opportunities and Challenges" on Feb. 9.
The Globalization Initiative will also host a discussion featuring Naomi Tutu, daughter of Archbishop Desmond Tutu, who grew up during apartheid in South Africa. Tutu will be coming to Ferris March 2.