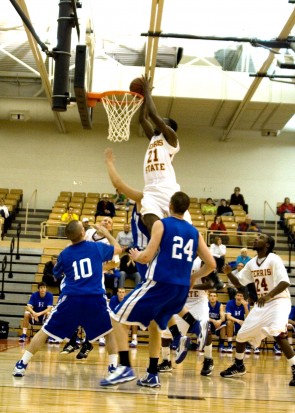 The term "upset" has been thrown about carelessly and has lost its luster over the years.
The term has been overused in both college and professional sports. When a No. 5-ranked team defeats a No. 2-ranked team, that's not an upset. When a 13-3 football team defeats a 14-2 team, it should not be considered stunning.
In sports, an "upset" occurs when one team defies all odds to defeat a mightier opponent. When a team does what no team has ever done before, that is an upset. When a team is overmatched in size, skill and number, but still steals a victory, that is an upset.
When the Ferris men's basketball team defeated the defending national champion Findlay Oilers on Feb. 6, it was a true "upset." It was an upset for all the reasons a victory should be called an upset.
Findlay was ranked No. 19 in the nation and won the NCAA Division II National Championship last season with a 36-0 record. The Oilers had the best record in the Great Lakes Intercollegiate Athletic Conference (GLIAC) at 12-3. In the 47-year history of the all-time series, Ferris had won 3 of 18 contests against Findlay. The Oilers manhandled Ferris 90-62 earlier in the season.
Ferris had all the ingredients needed to win a game of such magnitude: scoring, defense, rebounding, and intangibles.
It was a game I was certain before it started would have been a lopsided contest in the other direction, but I was mistaken. It was that one time when a team overcomes a superior opponent and wins a game they were not "supposed" to win.