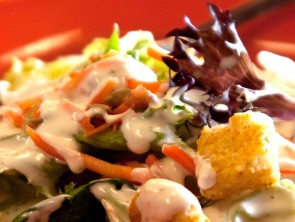 Ferris State University's Dining Services are asking students to participate in providing new vegan and vegetarian alternatives on campus.
Hoping to increase the variety of meals offered to students, Dining Services, along with the Campus Affairs Committee of Student Government, are gathering students to participate in researching new dietary options. The students, composed of both vegetarians and vegans, will discuss a variety of topics concerning campus dining such as preferred locations and desired menu choices.
Students will also meet regularly with Dining Services representatives to evaluate the nutritional needs of the campus' dining halls. Lori Helmer, director of Dining Services, believes the student feedback will promote both new and current menu items.
"We are hoping to find ways to do a more effective job of marketing the vegan and vegetarian products that are currently on the menu," said Helmer.
Currently, dining locations such as Westview and Center Ice have included vegetarian menu items such as veggie burgers and vegetarian quesadillas. Ferris' Rock Café has also incorporated the use of hummus and tofu to provide vegetarian and vegan students with balanced meal choices.
Kevin Tran, operations and supply management sophomore, agrees that allowing students to incorporate their input in Ferris' dining program is important.
"I think it will be great for vegetarian students on campus to be given more variety," said Tran.
Tran feels that by providing alternatives to meat, the dining halls will also influence a healthier diet for both vegan and vegetarian students on campus.
Sophomore Greg Priester views the idea as being a great way to increase the selection of vegetarian options in the dining halls. As well as providing a voice on campus, he also sees student participation as an opportunity to better the current menu choices.
"I think it is good for both students and faculty to be involved. Dining services will be able to produce a larger selection of vegetarian foods that are student approved," said Priester.
Ferris' registered dietitian Brenda Walton feels that evaluating the students' responses will help decide what menu choices will benefit the campus' dining options.
"A major aspect of vegetarianism is about combining foods. I believe it will open healthier options for students interested in trying new things," stated Walton.
For information on joining Dining Services and the Campus Affairs Committee's vegetarian and vegan research group, contact Lori Helmer at 231-591-3754.