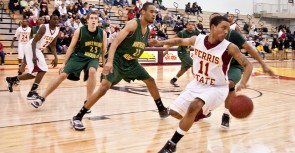 For the second consecutive week, the Bulldogs squandered a lead in a Thursday night game, only to respond with ferocity on Saturday.
On Feb. 11 against Michigan Tech, Ferris was in complete control as it held a 17-point lead with 15:23 to play. Junior forward/center Justin Keenan made a layup to put Ferris up by 11 with 5:50 to go, but fouled out of the game with 4:24 remaining.
From that point on it was all downhill for the Bulldogs as they were not able to find the bottom of the net for the remainder of the contest. Michigan Tech stormed back to claim a 70-67 come-from-behind victory. Senior guard Austin Randel had 14 points and four assists for the Bulldogs in the losing effort.
"After Justin Keenan fouled out, we were desperate for a leader on the floor and I had to apologize (to the team) because I felt as if I should have been that guy," said Randel.
The Huskies held a decisive 45-28 advantage on the boards, including 21 offensive rebounds. Michigan Tech did not let extra opportunities go to waste as they outscored the Bulldogs 21-4 in second-chance points. Head Coach Bill Sall thought the game was tough to swallow as his team did some uncharacteristic things late in the game.
"We had some bad turnovers and bad decisions and then the crowd got into it and the momentum switched," said Sall.
On Saturday, the Bulldogs jumped out to another quick start, but this time they did not let up. Northern Michigan was riding a two-game winning streak, but the Bulldogs kept up their defensive pressure throughout as they defeated the Wildcats 90-76.
"We all knew that we had to come out and put the past behind us and worry about the task ahead," said Randel.
Randel had 21 points to go along with three steals and Keenan tallied 16 points and 11 rebounds for the Bulldogs. Ferris constantly pressured the Wildcats into mistakes as it forced 16 turnovers in the first half, which led to a 42-27 halftime lead.
"Our defense was much more aggressive and we got a lot of turnovers, which led to points," said Sall.
The Bulldogs led by as many as 24 points in the second half as they did not let up in the slightest.
Ferris has won eight of its last 10 games and its record stands at 14-9 overall, 12-6 in the Great Lakes Intercollegiate Athletic Conference (GLIAC). The Bulldogs are in second place in the GLIAC North Division, only one game behind Grand Valley State.
There are only four games remaining in the regular season as Ferris wraps up its four-game road trip. The team travels to Saginaw Valley State on Feb. 18 and then to Lake Superior State on Feb. 20.
Saginaw Valley is currently only one game behind Ferris in the standings and will be one of teams the Bulldogs battle for playoff position as they are coming down the stretch.
"This is a huge game with only four games left and battling for a playoff spot," said Sall.