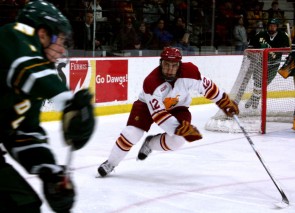 The 14th-ranked Bulldogs are heading into a monumental series with Michigan State this weekend that has league-standing implications.
After a 2-1 win against Lake Superior State on Saturday, Ferris moved into a tie with the Spartans for second place in the Central Collegiate Hockey Association (CCHA), as both teams have 43 league points heading into this weekend's home-and-home series.
Both teams enter the weekend series with some recent struggles, as Ferris is 1-3-2 in its last six games while Michigan State is 2-3-1 in the same span.
Head coach Bob Daniels knows this weekend will be crucial to his team's confidence heading into the final stretch of the regular season.
"We're at a point where we've cashed in some of that confidence that we had earlier in the season," said Daniels. "We've got to get some of that confidence back as we head down the stretch."
Though both teams have struggled recently, the penalty kill could be an area of play to watch this weekend, as Ferris is second in the CCHA with an 87.2 percent success rate, while the Spartans are eighth with an 83.6 percent success rate.
Ferris is the third-most penalized team in the CCHA with an average of 19 penalty minutes per game. Michigan State is the fourth-least penalized team with an average of 14.5 minutes per game.
This series could also come down to who can get on a scoring roll, as both teams are in the top 4 in scoring offense and scoring defense in the CCHA.
Although conference leader Miami (Ohio) clinched the regular season CCHA Championship after defeating Bowling Green on Friday, this weekend's series will be instrumental in deciding who will take second place in the CCHA.
Besides having a chance to clinch second in the CCHA, the Bulldogs have an opportunity to prove they can play with the big schools in the conference.
"I'd be lying to you if I told you that we don't get a little excited to play a team from the Big Ten or any other big program," said Daniels, a Michigan State alum. "These kinds of games always give us a chance to show people that we can play with the best of them."
Michigan State has dominated the overall series, as the Spartans are 25-65-15 against the Bulldogs all-time. In their last series meeting a season ago, the Bulldogs posted a 2-1 shootout victory in the first game and then followed with a 1-0 loss to the Spartans.
The action will start Friday with the series-opening contest at Ewigleben Ice Arena and shift to East Lansing for Saturday's
contest.